Manti Te'o Is Coming Back to Notre Dame in 2012
Updated: December 13, 2011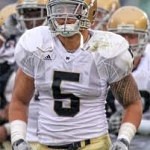 Manti Te'o is not entering the 2012 NFL Draft.
Te'o is one of the nation's top linebackers and a surefire first round draft pick.   With that said he is coming back to Notre Dame to finish what he started.  He released a public statement in which he said:
I feel I'm not done at Notre Dame. I'll be coming back to Notre Dame.
This could be a good decision considering the load of talent at the linebacker spots right now in the college game.  Te'o returns as a top prospect at the position for the 2012 draft.
If he wants to change his mind he always can.  The deadline isn't until January 15th.