Dayne Crist Transfers From Notre Dame to Kansas
Updated: December 22, 2011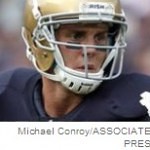 According to multiple sources, Dayne Crist has decided to follow Charlie Weiss to Kansas and take his talents to Kansas. That's right, Crist will transfer from Notre Dame to Kansas this fall.
In order to be eligible Dayne will have to enroll in a graduate program that is not offered at Notre Dame per NCAA rules. This is the same process that Russell Wilson used to get into Wisconsin.
I believe that this is a great move to get the Kansas program started on the right foot with coach Weiss. He will have a guy in there that already knows the offense, giving him a year to prep whatever QBs he recruits behind Crist.