2012 NFL Mock Draft: Montee Ball's Stock
Updated: December 3, 2011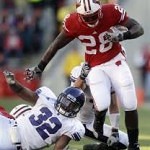 As we get closer and closer to the 2012 NFL Draft, a prospect I see shooting up the boards here on MDHQ is Wisconsin's running back Montee Ball. Montee is a great runner, and has some of the best stats in the Nation at the position. As a matter of fact, as write this now he is the Nation's leader in rushing touchdowns. Ball's stats right now have compiled up to 248 attempts for 1622 yards and 29 touchdowns. That is no typo. 29.
The thing that I see about Ball is that he is a former fat kid, and that is always a red flag. I call that the "Mike Williams" factor. What happens when he gets that first million dollar check? Does he stay in shape or will he revert back to BIG BOY status? It's not a dig at him but it's something to think about.
When I watch Ball play I get reminded a lot of former Packers RB Ahman Green. I think Ball has that similar "one cut and go" style of running and is a deceptively punishing runner. Though Green caught the ball out the backfield better, Montee has time to get better as a pass catcher.
When you watch footage of Montee Ball something pops out at you: Wisconsin's offensive line is real. In his clips, literally you see NO defenders get a push on the line. Konz and that group up front are no joke!
All in all, I think Montee Ball will come out of school and if I was making my 2012 NFL Mock Draft I'd have him in the 22-40 range to a contender without a consistent threat at the position.