2012 NFL Draft: Miami WR Tommy Streeter and DT Marcus Forston Declare
Updated: December 6, 2011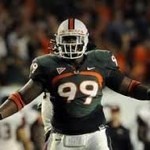 We are getting closer and closer to the draft!! This is the time of year where many people make the decision to remain collegiate or make the leap and go pro. A pair of Miami Hurricanes have decided to make the leap:
According to the Miami Herald, and as expected, Streeter and Forston have decided to forego their final season of eligibility and make themselves available for the 2012 NFL draft. To show the finality of the decisions, the Herald also reports that both players have signed with agent Drew Rosenhaus, meaning they would not be permitted to return even if they were to change their mind between now and the mid-January deadline.
(PFT)
Forston and Streeter should be both mid round selections baring either one blowing up the combine and jumping up the draft board.