2012 NFL Draft: LaMichael James Declares, Where Will He Go?
Updated: December 15, 2011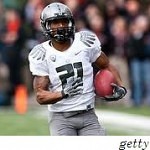 The Oregon Ducks exciting junior running back, LaMichael James has announced his decision to enter the 2012 NFL Draft.  He will forego his Senior season after an injury plagued Junior year.
James was once thought of as a Heisman frontrunner for 2011.  However after breaking his arm and re-injuring that same arm he fell of many people's radars.  With all things said he still had a pretty admirable season.  James finished up with a strong 1646 rushing yards and 17 touchdowns.
Duck fans don't fret, you still have De'Anthony Thomas to fill the void that LaMichael is going to leave.  But with that said what does the future hold for LaMichael James?
At one point it looked as if he would be a fringe first rounder.  Now that Lamar Miller (UM) has declared James may be lucky to be the 4th runner off the board.  You have to put Montee Ball, Trent Richardson, and Lamar Miller first in any running back conversation before you get to James.
That isn't a knock on James.  Not at all.  But his size (5'9, 185 lbs.) and injury concerns are going to work against him.  There is also that little issue of the 4.59 fourty yard dash he clocked last year which simply is not good enough for a smaller runner.
All in all, I think James goes early third round to a team looking for a healthier version of Knowshon Moreno.  Could it be the Broncos? Or could it be another team such as the Raiders or Browns who are going to lose a runner this summer in free agency?  Either way a team is potentially going to get a very solid #2 runner at a good price in the 2012 NFL Draft.