Rumor: Titans to Release Chris Johnson
Updated: November 7, 2011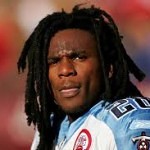 Yes, Chris Johnson has played pretty bad this season. No need to sugar coat it. CJ held out, got his money and things have not been the same since. Fantasy owners all over the country, and maybe the Titans themselves, are fed up with CJ2K's lack of production.
As teams prepare their list of potential free agents in 2012, there's a fairly big name that some currently are putting in the "maybe" category. Per a league source, several teams believe that the Titans could release running back Chris Johnson before the fifth day of the 2012 league year, at which time his base salary of $8 million becomes fully guaranteed.

Profootballtalk

Read more: http://www.fannation.com/truth_and_rumors/view/316410-source-titans-may-release-chris-johnson?eref=sihp&sct=hp_bf2_a4#ixzz1d0CJTi5q
The thing is you don't know what is going on with Chris. Maybe he is just having a off year. Maybe he played for a contract. Maybe he is trying to get out of town after a long and ugly holdout. We don't know.
What we do know is that Chris Johnson has the talent to be the best back in football and you simply don't release that kind of talent. Who are you going to replace him with? Javon Ringer?
If all else fails, CJ runs a record label and could always end up being the next Birdman or Diddy. You never know. Crazier things have happened.