Burlsworth Trophy Announces Nominees
Updated: November 15, 2011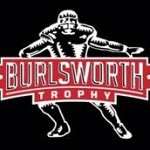 For those of you out there that may not know, the Burlsworth Trophy is awarded to the top walk-on players in college football. The Trophy was first awarded in 2010 and the winner was Georgia Tech Center Sean Bedford.
Mock Draft HQ congratulates all of this years nominees and wishes them all luck in the future whether that includes playing in the NFL or a career in another area.
The Trophy is named in honor of Brandon Burlsworth. Without any Division 1 scholarship offer, Brandon walked on to the Razorbacks team in 1994, worked his way to being a three-year starter, and was eventually named an All-American in 1998. Burlsworth was selected as the 63rd overall pick by the Indianapolis Colts in the 1999 NFL draft, but was tragically killed in a car accident 11 days later. The Burlsworth Foundation was created in his memory and supports the physical and spiritual needs of children, in particular those children that have limited opportunities.
The 2011 Burlsworth Trophy nominees are below:
Cameron Kastl         SR                   Long Snapper                      Arizona State
Tyler Shoemaker     SR                   Wide Receiver                      Boise State University
Jameson Frazier      SR                   Outside Linebacker            Brigham Young
Philip Price              SR                    Offensive Tackle                 Clemson University
James Skelton         JR                    Linebacker                            Colorado State
Alex King                 SR                    Punter                                    Duke University
Andrew Bodenheimer  JR                Outside Receiver               East Carolina University
Marcus Bartels         SR                   Safety                                    Florida Atlantic University
B.J. Finney               FR                   Center                                    Kansas State University
Lee Stalker               SR                   Defensive Lineman             Kent State University
Jeremiah Taylor       SOPH              Defensive End              Marshall
Anthony Amos         JR                    Wide Receiver              Middle Tennessee
Brandon Wilson       JR                    Linebacker                           Mississippi State University
David Ruffer            SR                    Kicker                                    Notre Dame
Nate Ebner              SR                    Defensive Back                   Ohio State University
Bryson Rose           JR                     Kicker                                     Ole Miss
Mike Remmers       SR                     Left Tackle                            Oregon State University
Kevin Ballinger       SR                     Long Snapper               Purdue University
Matt Nordstrom       SR                    Linebacker                            Rice University
Chandler Jones      SOPH               Wide Receiver               San Jose State University
Griff Whalen           SR                    Wide Receiver               Stanford University
Caleb Russell         JR                    Linebacker                 Texas A&M
Andrew Abbott        JR                    Cornerback               UCLA
Will Lowery                  JR                         Defensive Back                University of Alabama
John Bonano          SR                    Kicker                        University of Arizona
Dylan Breeding       JR                    Punter                            University of Arkansas
Ronnie Weaver       SR                   Running Back                 University of Central Florida
Travis Sandersfeld  SR                   Defensive Back                   University of Colorado
Johnny McEntee     JR                   Quarterback                          University of Connecticut
David Lerner            SR                  Punter                            University of Florida
Bryant Moniz           SR                   Quarterback              University of Hawaii
Patrick Edwards      SR                   Wide Receiver                University of Houston
Derek Dimke           SR                   Kicker                         University of Illinois
Tom Nardo              SR                   Defensive Tackle     University of Iowa
Steven Johnson      SR                   Linebacker                            University of Kansas
Craig McIntosh        JR                   Kicker                          University of Kentucky
Mitch Huelsing         JR                   Safety                         University of Memphis
Jordan Kovacs        JR                    Safety                                     University of Michigan
Trey Barrow             JR                   Punter/Place Kicker        University of Missouri
Mike Caputo             SR                  Offensive Lineman              University of Nebraska
Dominique Whaley   JR                   Running Back                 University of Oklahoma
Chas Alecxih            SR                   Defensive Tackle                University of Pittsburgh
Dalton Wilson           JR                   Fullback                                University of South Carolina
Gilbert "Chaz" Hine  SR                   Center                             University of South Florida
Austin Davis             SR                   Quarterback                         University of Southern Mississippi
Wesley Miller            FR                   Safety                                    University of Texas at El Paso
A.J. Lindeman          JR                    Offensive Lineman             University of Toledo
Trey Watts                SOPH              Running Back                University of Tulsa
Ross Cumming         SR                   Fullback                               University of Southern California
Jared Abbrederis      SOPH              Wide Receiver               University of Wisconsin