Texans Release Steve Slaton
Updated: September 28, 2011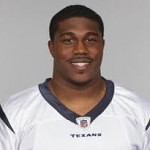 Back in the day, Steve Slaton was apart of one of the most powerful offenses in college football history along with Pat White, Owen Schmitt, Darius Reynaud. Slaton was the Nation's leading rusher at one point, putting up nearly 250 yards in several contests as a collegiate. A few seasons ago he was a NFL rookie quickly setting the league on fire. But now, he is a former NFL running back and looking for work.
Here are the details:
Steve Slaton finished sixth in the NFL in rushing yards during his rookie season in 2008.

Just three seasons later, the Texans decided to let him go.

The Texans announced that Slaton has been waived in favor of Chris Ogbannaya, who was promoted to the active roster. Slaton hasn't been the same since a neck injury and always seemed better suited to a third-down role. He had 20 yards on seven carries.
I still think Slaton can help a team out there. He showed a lot of promise, and if he can come at a cheap price tags I know a lot of teams would love to have him.