NFL Week 1 Preview & Picks
Updated: September 8, 2011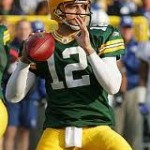 Picks sure to go wrong, right? Here is a preview of the games this weekend, and some picks sure to lose you money.  Of course do not go out there and take your student loan money to bet on these picks.  Do NOT go down to "check into cash" to bet on these.  Do NOT trade your cash for gold.  Just enjoy the picks!
New Orleans +4.5 at Green Bay
The Thursday night game.  Aaron Rodgers vs. Drew Brees.  A great defense vs. a rebuilding defense.  Two of the leagues best offenses.  All in all it looks like the Saints are going to try to reintroduce their running game to take pressure off Drew Brees to score so many points by arm.  Too bad that Green Bay is head to toe the BEST team in the NFL, lost no one important, and is coming off a Super Bowl win at home.  I think Green Bay can cover the 4.5 and win by at least 6.
Prediction: Green Bay-4.5
Pittsburgh +1.5 at Baltimore
In the world of sports, you know that the home team usually gets an unannounced three points.  By giving Baltimore a -1.5, they are saying this game is a touchdown game, pretty much a toss up.  Pittsburgh has virtually owned Baltimore the last few years, especially in the playoffs, and they are getting the points.  I have no choice but to say Big Ben goes vintage Baltimore heart breaker all over the charm city.  Take the Steelers straight up.
Prediction: Pittsburgh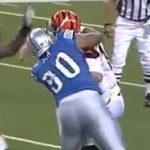 Detroit +1.5 at Tampa
Tampa is the youngest most exciting team in the leage.  Detroit is finally getting their QB back in Matthew Stafford.  Stafford has been slicing defenses like a hot knife in butter this preseason.  I like the Bucs rebuilt defensive line, I like what they are doing on offense.  I really like SUH and what he brings to the game.  But I think that this will be a low scoring contest, and is too close to call especially when it's a 1.5 toss up.
Prediction: Too close to call
Atlanta -3 at Chicago
Atlanta was on paper one of the best teams in the league last year, but Chicago got further in the playoffs.  I think that Jay Cutler may finally be coming into his own, but it's a shame that his #1 WR is going to be Devin Hester, Johnny Knox, or Roy Williams.  Greg Olsen and Desmond Clark are gone.  Matt Forte is playing for an extension and will get his bulk of carries.  I'm trying to go with Chicago at home, but I think Matt Ice gets it done. Atlanta probably won't blow them out so take the dirt birds straight up.
Prediction: Atlanta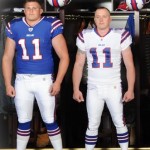 Buffalo +6 at Kansas City
Buffalo is still serious about this Ryan Fitzpatrick thing?  Cassell has a great young offense around him and they will run the ball early and often to test Marcel Dareus out.  6 points may not be big enough a spread.
Prediction: Kansas City -6
Indianapolis +8.5 at Houston
No Peyton, BIG PROBLEM.  I cannot believe that the Houston Texans are finally going to win the AFC South.  Ben Tate will probably gobble up a lot of carries and a lot of the clock so I don't like the 8.5 number, but the Texans are winning this game.  If you can tease that line down to 6.5 do it, otherwise take Houston straight up!
Prediction: Houston -6.5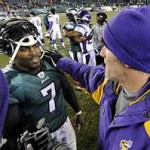 Philadelphia -4 at St. Louis
I like the dream team.  Sam Bradford doesn't have enough weapons yet and 4 points seems like free money to me.  Vick starts the MVP Wagon early.
Prediction: Philadelphia
Cincinnati +6.5 at Cleveland
So Colt McCoy is supposed to beat Andy Dalton by at least a touchdown? Hmmm…. I could see that, but I'm not buying it.  This is a trap game to me.  The Bengals defense is better than advertised and I think they keep it close.
Prediction: Cincinnati +6.5 *UPSET SPECIAL*
Tennessee +2.5 at Jacksonville
Tennessee should beat Jacksonville pretty handily with no Garrard. CJ2k and 2.5 is enough for me.
Prediction: Tennessee +2.5
NY Giants -3 at Washington
The Giants are going to run the ball, you know that.  Rex Grossman is the Skins starting Quarterback, you know that.  Washington will lose this game.  You know that.
Prediction: NY Giants -3
Carolina +7 at Arizona
Cam Newton in his first start over Kevin Kolb's Cards.  I actually think this is a winnable game for Carolina.  The Cardinals have a defense that is rebuilding, and an offense that will solely be the Fitzgerald show.  Carolina's defense is better to me, and Cam Newton can move the chains ENOUGH to get this done. The ICON wins his first career game.  I like Carolina straight up!
Prediction: Carolina *UPSET SPECIAL*
Seattle +5.5 at San Francisco
I don't like either of these teams, but 5.5 should be enough for the 49ers to cover.
Prediction: San Francisco -5.5
Minnesota +8.5 at San Diego
Donovan McNabb is going to get behind in this game.  So Adrian Peterson is going to be a non motherloving factor (shoutout Evelyn Lozado and Ochocinco).  8.5 is a lot of points and I would never, ever lay that big of a number against a veteran team with Adrian Peterson.  If you can tease it down, cool.  Otherwise SD straight up.
Prediction: San Diego
Dallas +5 at NY Jets
Here is a secret: The New York Jets quietly got a lot worse this offseason.  You cannot replace a stud like Braylon Edwards with a slower, older, receiver fresh out the joint.  You cannot rely on rookies on your defensive line.  You cannot rely on Mark Sanchez and a bunch of receivers he pretty much JUST met.  I like Dallas straight up for the upset on the road.  Jason Witten is going to go H.A.M. as they say.
Prediction: Dallas *UPSET SPECIAL*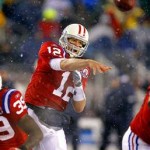 New England -6.5 at Miami
I really like Reggie Bush going to South Beach, but I'm not liking his quarterback.  New England is overrated, and always will be thanks to winning those three Super Bowls in the 2000's, but Tom Brady is the best in the world.  He alone is worth your 6.5 points.
Prediction: New England -6.5
Oakland +3 at Denver
Who do you think I'm rolling with? Do you see what the color scheme is on this site?
Prediction: Denver!