NFL Week 1 Picks: How Did I Do?
Updated: September 16, 2011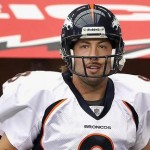 Wow, a below .500 record as I go 7-8 this week.  See, that's why I stepped away from betting on games. Anything can happen in the NFL.  Who saw Kyle Orton simply dropping the ball and the Broncos losing by the NFL record FG?
Who saw Tony Romo throwing the game away right to Darrelle Revis for the game winning INT? Ahhh….. next week my picks should be better. Take that student loan money and get ready to double it up next weekend (don't really unless you want to lose it, Im joking haha).
Here are the results of all of my NFL Week 1 picks….
Green Bay-4.5 – Winner
Pittsburgh – Loser
Atlanta – Loser
Kansas City -6 – Loser
Houston -6.5 – Winner
Philadelphia – Winner
Cincinnati +6.5 *UPSET SPECIAL* – Loser

Tennessee +2.5 – Winner
NY Giants -3 – Loser
Carolina *UPSET SPECIAL*– Loser (should have taken the +7)

San Francisco -5.5 – Winner
San Diego – Winner
Dallas *UPSET SPECIAL* – Loser

New England -6.5 – Winner
Denver –Loser 🙁