Mack Brown Hands the Keys to Case McCoy
Updated: September 11, 2011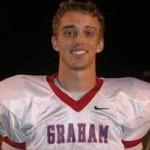 Garrett Gilbert was the man now in Texas, now he is one of many men.  The 24 ranked Texas Longhorns are in a battle with BYU (a losing one so far) and are trying something different.  They have handed the keys to another McCoy.  Colt's younger brother Case McCoy is now taking the snaps for the longhorns.  The last time they turned things over to a guy named McCoy, things went pretty well if you ask Colt.
Case McCoy isn't the only backup quarterback to play so far.  David Ash has gotten some PT as well, but McCoy has gotten the lions share of snaps away from Gilbert.
I guess the future is now in Texas.