D'Onta Foreman Comments on Carrying the Ball 50 TIMES in One Game
Updated: November 20, 2016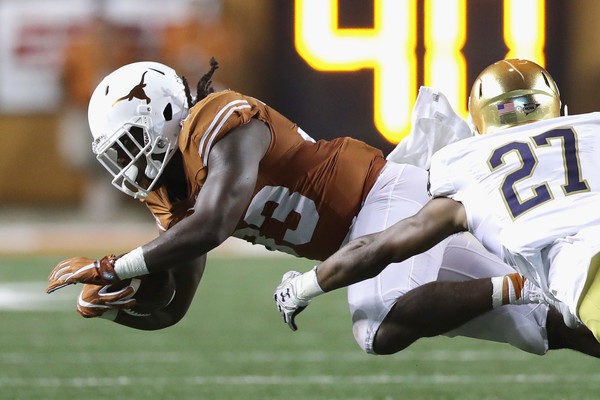 D'Onta Foreman is a possible first-second round pick in the upcoming NFL Draft. He is one of the bright spots on a struggling Longhorns team this season who took a loss to Kansas. For the record, it has been two years since Kansas beat anyone in the FBS so… yeah.
D'Onta went to twitter to voice his opinion on the gameplan:

Getting the ball 50 times was my role tonight and I'll never complain or ask for a change. I lay everything on the line for this team!

— D'Onta Foreman #IDM (@D33_foreman) November 20, 2016
Looks like he isn't too upset about it. Yes those carries all add up and take their toll (see Adrian Foster's up and down pro career) but if Foreman is up to it let him do it. He knows the risks and is willing to do whatever it takes to help Texas be great again.
Though others were not so happy about the developments:

Getting the ball 50 times should NEVER be your role … smh, we have other play makers ! I appreciate what you do for this team though 💯 https://t.co/oQ769hqg0r

— Armanti Foreman #IDM (@_hetoohollywood) November 20, 2016