Miami Declares QB Jacory Harris Ineligible for 2011 Season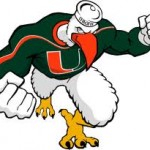 Hot off Yahoo! Sports investigation into the Miami program, the University has made it's first response.
There have been allegations going all across the web over which player took what, did what, or asked for what from booster Nevin Shapiro.  Shapiro is serving a prison sentence for setting up an illegal pyramid scheme and claims he spent a percentage of the money he took in on taking care of the Miami players.
Media outlets have speculated that Miami might get the "death penalty" from the NCAA.  Yeah… I don't believe that.  The U still brings in a TON of cash from their football program and I highly doubt that the NCAA is going to give Miami any type of sanction that severely cripples their competitiveness.
With that said, the Canes have taken a precautionary measure and declared 8 players ineligible for 2011. Including starting QB Jacory Harris.
The University of Miami declared eight student-athletes – all believed to be football players – ineligible Thursday and has asked the NCAA to initiate the reinstatement process, according to a source with knowledge of the investigation.

Quarterback Jacory Harris and star linebacker Sean Spence are two of the ineligible athletes, the source said.
Source: Miami Herald