Reggie Bush Wishes He Didn't Tweet After The Drafting of Mark Ingram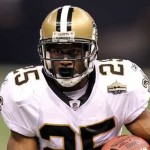 ESPN has a sit down with Reggie Bush to discuss his thoughts going into the 2011 NFL season.  As everyone knows Reggie is due a huge bonus this year that the Saints are prepared to avoid paying him; whether that be due to releasing Bush or coming together for a new contract.
This spring the Saints made things a lot more complicated too after they took Mark Ingram in the first round of the 2011 NFL Draft. Reggie tweeted several seconds later:
It's been fun New Orleans
A tweet that Reggie now regrets. "To me it looked like the team was moving on" he told ESPN.  He also went on to blame field turf for his rash of injuries and claims he is still "as durable as any other back."
During the lockout he has been staying in shape, enjoying the off-season but is now ready to get back on the field.  Whether that is in New Orleans or elsewhere is yet to be seen.
An interesting stat is that he is #1 in receptions, receiving yards per game, and 2nd in receiving touchdowns for all RBs.