ESPN Sportsnation's Top 5 Collegiate QBs
Note: check out our Quarterback rankings as well.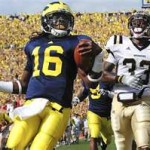 5. Matt Barkley QB USC
Funny that the second best Quarterback in this class, and probably the one that will have the best career in the NFL  is so far down on this list (remember Luck is going to go to the worse team in the league and struggle for five years).
4. Denard Robinson QB Michigan
With his yardage totals, you have to put him in this list.  Although he is like Ted Ginn at QB.
3. Landry Jones QB Oklahoma
Currently has seven career games with four plus touchdowns.  Allegedly Bob Stoops calls him the next Sam Bradford.
2. Kellen Moore QB Boise State
He will beat Colt McCoy's all time win's record this year.  That alone means allot.
1. Andrew Luck QB Stanford
The best QB since John Elway?  That's what Colin Cowherd said.  Once in two decades type of prospect.