Brett Favre Coming Back in 2011?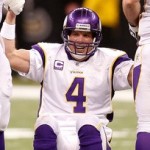 You cannot be serious. That is the first thing I thought when I saw this story come across my Twitterfeed and email. Brett Favre may be ready to put his Wranglers away and join a club in 2011.
Favre is possibly considering another comeback for a 21st NFL season, according to NFL.com analyst, Gil Brandt.
The Vikings have already drafted Christian Ponder who is the heir apparent in Minnesota and are prepared to move forward with him as the starter. The whole "get a ring" thing has been thrown out, the rebuild seems to be on for the Vikes.
Does Favre have any value anywhere in the league? Of course he does. Carolina needs a veteran to sit behind Cam Netwon. Tennessee needs a veteran to help out with Jake Locker's development. The Dolphins and Cardinals are in the market for a veteran as well. Don't think for a second that Favre isn't aware he can hold a clipboard and get around $2.5 million for it.
Will he be back? Probably not. But if #4 suits up one more time don't be surprised.