Russell Wilson Chooses Wisconsin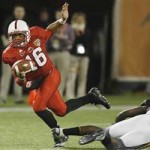 Russell Wilson had a decision to make this summer after graduating from NC State.  Would he continue playing football, where would he play, or would he choose to play professional baseball instead?
Wilson ultimately decided that this fall, and this is tough, he will be taking his talents to the Wisconsin Badgers. He should fit right in with what they do on offense and make them an early favorite to challenge the throne that Terrelle Pryor and the Ohio State Buckeyes have left open.
I predicted this a few days in a previous article where I wrote:
If you have to make me bet, I'd put my dinero down on Russell throwing passes for the Badgers this fall.  I'm not sure if the shoes of an ICON AND ENTERTAINER are those you want to fill.
So time for another prediction?
Your 2011 Big Ten Champions will be….
…….the Michigan State Spartans.