Will Da'Quan Bowers' Knee End His Career Too Soon?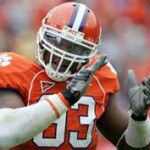 On draft day many people had the same thought on their mind as team after team after team after team passed on Da'Quan Bowers.
There must be something seriously wrong with that knee….
Eventually the Tampa Bay Buccaneers selected Bowers in the second round to end his wait.  Bowers was at one time the #1 prospect in the 2011 NFL Draft with 15 sacks and 26 tackles for loss in his senior season at Clemson.  A new report from the San Diego Union-Tribune reports that:
"The question is whether [Bowers] ever plays at a high level. There is concern by most teams that he might be essentially finished," writes Acee. "On some level, you have to applaud Tampa Bay for taking him. But there is a large number of people who have seen the medical report from when he was re-checked in April that believe he is done."
That is very weird because in April Bowers himself said the knee wasn't an issue at all and several teams actually medically cleared him.  Here is what Bowers said in an April interview (source):
"It's all overblown. None of that stuff is true. My knee wasn't as bad as people made it seem. I'm not going to dwell on that. The organizations know. They have every medical record. They know what type of player I am. My fillm speaks for itself. There's no reason for any team not to have me on their draft board."
The Bucs have a lot of experience with knee injuries, especially Cadillac Williams and Kellen Winslow.  Winslow has actually played in all 16 games the last 2 seasons.  If there is any team that knows how to deal with knee issues its the Bucs.  Bowers should have a nice career down in Tampa, no matter how long it may be.