What the Duck: Jeff Maehl Selected With the Final Pick in UFL Draft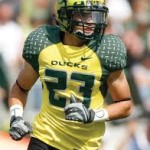 The last time we saw Jeff Maehl he was making big catch after big catch, leading Oregon back in the National Championship versus Auburn.  And if being overlooked in the NFL Draft wasn't enough Maehl almost didn't make the UFL.
via twitter:
With the 52nd, and final, selection in the 2011 #UFLDraft the @VADestroyers select Oregon WR Jeff Maehl.