Live Draft Blog: Vikings Cant Trade and Grab Ponder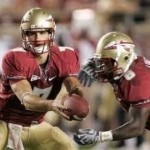 This is turning out to be the 99 draft all over.  Akili Smith, Tim Couch, Cade McNown and only Donovan McNabb was good out the group.  We already have 4 QBs off the draft.  I predicted that six will go first round and we are past the halfway mark.
It is a shame that the Vikings could not trade out that spot.  But they really had no choice.