Michael Floyd to Return to Notre Dame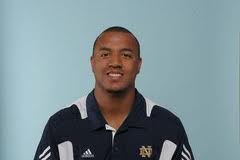 This is a follow up to the story I posted a few days ago about Floyd possibly going to the NFL.  According to ESPN, Floyd will be given an opportunity to finish his career at Notre Dame and earn his degree in the process.
Floyd put out the following statement:
"I've met with the Office of Residence Life and, while I don't plan to discuss the details, I'm grateful that I still have a chance to earn my degree from Notre Dame and be a member of the football team,"

"I know that I still need to meet requirements set by the university and Coach Kelly, and that I have a lot of work to do that and to prove that I've grown from this experience. I'm sorry again for the poor decisions I've made and for letting so many people down."
It is probably best for him that he stay focused and remain in school.  Running into the NFL will probably cost him a paycut right now.  Michael Floyd is projected to be one of the top players in the 2012 NFL Draft and is a definite first round prospect.