Live Draft Blog: Sherrod To Packers Finishes it Up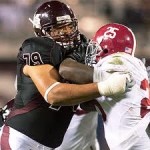 In 32 in 32, I was tempted to put Derrick Sherrod in the first round.  With Bulaga already there, I did not see the Packers going OL early again.  Maybe OLB.  Sherrod is a guy that will help Rodgers not get concussed again next year, in route to a possible Super Bowl defense.
A LONG stressful day is finally over, tomorrow I will let you know some crazy things that happened to me personally, that caused me to miss the first 40 minutes of the draft….
What were the biggest stunners of the day? 4 things:
Daquan Bowers still on the board!
Jake Locker #8 overall?!
Jaguars pass on Tebow in 2010 to take Blaine Gabbert?!!
Falcons trade entire draft for Julio Jones!