32 in 32: Who Will the Packers Pick?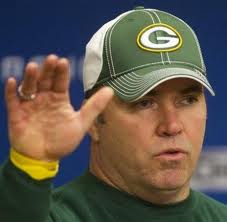 And we are here at the end of the 32 in 32 series with the 2011 Superbowl Champion Green Bay Packers.  The last team standing, was literally comprised of their last players standing when they took back the Lombardi Trophy.  Gritty runner Ryan Grant was injured, Nick Barnett was injured, and  Donald Driver and Charles Woodson were finished by halftime of the Super Bowl.  Yet the Packers found a way to get the job done and for that my hat is off.  Not often can a team recover from losing that many players and still take home a title.  All credit is to Mike McCarthy and Aaron Rodgers for an awesome season.
With that said, Aaron Rodgers season was not an easy one.  He was concussed and knocked out a few games due to it.  The Packers drafted Brian Bulaga last year but he alone is not going to patch that line up.  Going forward there are questions on both sides of the ball.  Is Donald Driver going to be productive?  Is Ryan Grant still your starter or is it James Starks now?  And how will the team adjust after cutting AJ Hawk?
With all those questions the Super Bowl champs are still in a pretty good position to make their team better.  Good drafting is what got them there and what will keep them in the elite class of the league.  Here is who they should target:
1. Cam Heyward DT/DE The Ohio State University
With the needs that the Packers have, adding to the defensive line is an area that Packers must take a look at.  If they can get Heyward, it is a no brainer.  Rotating him in and out at DE, and DT with Raji along with Clay Matthews rushing from the same side would be one word: beastly.
2. Brooks Reed OLB Arizona
Reed is actually a prospect I do not know much on, as he came on the national scene pretty late, and I did not get a chance to see a lot of Arizona games.  Reed projects to be a OLB in the pros though he was a DE in school, and rumor is that the Packers will add a OLB to pair with Matthews in this draft.
3. Akeem Ayers OLB UCLA
Ayers is getting more and more consideration for the first round, but I just don't see him going in the middle of the first like others.  Ayers is shadowed by the extremely strong DE/OLB class this year and isn't a real flashy player like a Justin Houston, etc.  He could still be picked in the late 20's and Green Bay, needing a OLB to go with Matthews would be interested.