Michael Floyd In the 2011 Supplemental Draft?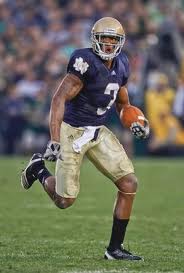 Over the weekend, Notre Dame WR Michael Floyd was arrested for DUI.  His playing status for Notre Dame in 2011 is up in the air.  If he chooses, he may enter the supplemental draft where he can be selected by a team in lieu of their 2012 selection of the same round.  This is all pending, of course, whether Notre Dame brings any disciplinary action down on the Senior wideout.
If Floyd ends up in the supplemental draft, he would hold a lot of value there for many teams.  At one point Floyd was considered a top 3 pass catcher in the 2011 NFL Draft.  Most teams don't use anything higher than a 4th round pick in the supplemental draft but you may see Floyd go much higher than that.
The last receiver taken in the supplemental draft was Rob Moore by the Jets in 1990.  He ended up being a Pro Bowl player.  Not a bad investment.