32 in 32: Who Will the Vikings Draft?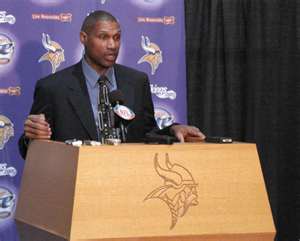 Let me start this post with a disclaimer.  I am a Tavaris Jackson fan.  I think he can actually play QB in the NFL, and I am one of the few people that remember that the Vikings actually went 11-5 and made the playoffs behind Jackson in the season right before Bret Favre signed with the team.
With that said, we know how the Bret Favre experiment turned out.  There were great moments but in the end when it mattered Bret just could not get the job finished.  The Vikings never made the Superbowl, Brad Childress was sent packing, and the team promoted Leslie Fraizer to head coach.
The Vikings are in a state of uncertainty all around.  Bret Favre is gone.  Who is your QB?  Tavaris doesn't seem to get that bode of confidence from Leslie Fraizer.  Is Sideny Rice going to hit free agency?  All news is looking like he actually will.  And will Pat Williams return for another season?
The Vikings have many many ways they can go but here are the three most likely scenarios:
1.  Blaine Gabbert QB Missouri
For some odd reason I see Leslie Fraizer selecting Gabbert if he is available.  He has not publicly backed Tavaris Jackson yet, and management may pressure him to find a QB he likes, and do it fast unlike Brad Childress.  But would he select a rookie?  Considering the Eagles are asking for a kings ransom (reportedly TWO first round picks!) for Kevin Kolb and the Broncos aren't trading either one of their QBs, his hand may be forced.
2. Cameron Jordan DE California
The Vikings would prefer to grab a DT, but beggars cannot be choosy.  If the 'Williams Wall' is to fall this offseason quality size on the line is needed.  Jordan is all that and more, he just plays the DE role.  A young DT can be found later.
3. Julio Jones WR Alabama
What the heck?
Calm down Vikes fans and reason with me.  If Sidney Rice leaves via free agency the Vikings will be in need of LEGIT #1 option at the wide receiver position.  Benard Berrian is not that guy, you and I both know this.  Jones participated fully in the combine with a fractured foot and posted an amazing time of 4.39 in the 40 yard dash.  If he is available he is more than worthy of this pick, and keeping him out of the arms of Sam Bradford may pay huge dividends down the road in the future of the NFC.