32 in 32: Who Will The Titans Draft?
Updated: February 21, 2011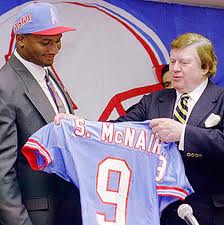 This has to be a new record. This is like 5 posts in 2 days. You are being spoiled right now. Do not expect this pace to keep up… lol.
Anyways, lets continue the 32 in 32 series with the Tennessee Titans. They are a franchise that is in a perpetual state of underachieving. Team owner Bud Adams finally decided that the Vince Young experiment is over, and also let Jeff Fisher "resign" after not accomplishing much in the decade after his last Super Bowl calibur team. On offense there are some bright spots. Fellow Pirate (aaaaaaaaaaargh!) Chris Johnson is one of the leagues very best players. Kenny Britt is maturing into a legit #1 option. Randy Moss still has time left. But they need someone to galvanize this unit and cash in on all of that potential.
With that said here are your picks for the Titans at #8 overall:
1. Blaine Gabbert QB Missouri
Blaine Gabbert is going to be picked in the first round, we are all sure of it.  The Titans put themselves in the position where they NEED a QB and may have to reach on someone at #8.  Gabbert is rated #1 at QB right now with many people and if he is there at 8, I hate to say it but they cannot afford to not draft him this early because the options don't get much better.
2. Cam Newton QB Auburn
If Newton is available Bud Adams may make the call down from the top again, just as he did with Vince Young.  Newton is a player that reminds many of Vince Young so it kind of makes no sense, but then again the knock on Vince has been his emotional makeup.  Not his ability to win games or not.
3. Von Miller OLB Texas A&M
This is a pick I see mocked constantly here at MDHQ.  I like Miller and think he will go higher than 8, but if he is there do the Titans make it happen? Like I said, I should be mocking three straight QBs here as their hand is forced, but with a trade for a Kevin Kolb or Kyle Orton things change drastically.