32 in 32: Who Will the Texans Draft?
Updated: February 28, 2011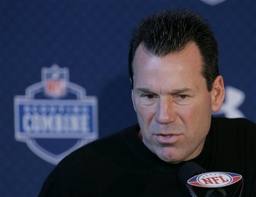 As we get out of the top 10 the draft gets a ton more interesting.  At the 11 spot is everyone's favorite underachievers the Houston Texans.  Once an expansion team with much potential, the Texans have turned into a consistent mediocre 8-8 team.  Head coach Gary Kubiak is on the hotseat and has to produce in this draft.  So what will he do? Go offense or bolster his defense?
This is what I see happening:
1. Prince Amukamara CB Nebraska
If Prince happens to last this far in the draft someone from the Houston Texans' war room will probably tear their ACL running to hand the card in with Amukamara's name on it.  This team just drafted a corner last year in Kareem Jackson but they still have a far way to go in stopping opposing passing attacks.  In a divison where you see Peyton Manning twice a year you have got to get to the passer and defend the pass well, which the Texans don't do well at all.
2. JJ Watt DE Wisconsin
Some of you may be giving me the WTF face right now, but as I just said in the AFC South it is all about defending the pass and getting to the passer.  With Mario Williams you have a great building block but there isn't much help on the line across from him.  Super Mario registered 8.5 sacks but the next closest lineman Mark Anderson only got 4, and former first rounder Amobi Okoye only got 3.  That is not enough production.  JJ Watt is a guy that is a classic 4-3 DE and will attack the passer with a relentless style. Putting him across Mario could help Mario become a double-digit sack artist year in and year out.
3. Stephen Paea DT Oregon State
Paea is the strongest defensive lineman in the history of the draft.  Need I say more?  Ok, strength does not always translate but in Paea's case when you combine it with his agility and athleticism there is little doubt that he will become a good defensive tackle in the pros.  With the Houston Texans, Paea could play next to Mario and help free him up from double teams or penetrate the pocket himself to get to the QB.
The Texans cannot afford to whiff on this pick, and I think if any of the top defenders are left they shouldn't hesitate to pick one.