32 in 32: Who Will the Bengals Draft?
Updated: February 14, 2011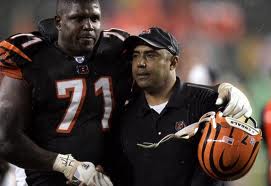 Yes, yesterday I took a slight break but we are back with day 4 of the 32 in 32 series.  Today let's look at the Cincinnati Bengals.
The Bengals failed to make the playoffs last season after adding Hall of Fame WR Terrell Owens, and sweeping the AFC North just a season prior.  QB Carson Palmer had another off year, and RB Cedric Benson didn't play up to his NFL Comeback Player of the Year performance.  This upcoming season the Bengals will be saying goodbye to WRs Chad Ochocinco and Terrell Owens, saying "Welcome back!" to coach Marvin Lewis and possibly parting ways with Carson Palmer.   That is a lot for an offense to lose in one year.
So who are the top 3 draft choices for the Bengals?
1. Blaine Gabbert QB Missouri
Blaine is getting a lot of hype, mostly in part because Andrew Luck is no longer in this draft.  Playing in a spread offense at Missouri Blaine showed the ability to make quick throws and displayed an accuracy that has NFL Coaches excited.  Some draft experts think he is a product of the system and Luck's absence.  However, if Carson Palmer makes good on his threat to retire if he is not traded the Bengals need a QB and Blaine will be the best one on the board.
2. AJ Green WR Georgia
Do I need to explain? No TOcho means that the Bengals will need a young playmaker to go with Jerome Simpson, Jordan Shipley, and Jermaine Gresham.  AJ Green actually reminds me of the young Pro-Bowl player that was Chad Johnson, and he would fill right in from day one.  It all depends on if Carson stays with the team if they can afford to draft a WR here.
3. Marcel Dareus DT Alabama
This is the lowest I believe Dareus would be drafted in any scenario.  A versatile young lineman is something the Bengals need if they are going to take down Big Ben and Joe Flacco, and take the AFC North crown back to Ohio.