Chad Ochocinco Changes Name Back to Chad Johnson
Updated: January 25, 2011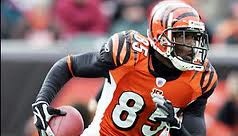 Adam Schefter broke the news a few minutes ago that the Ocho is out and that Chad Johnson is coming back. He tweeted:
"Chad Ochocinco is leaving Cincinnati. Chad Johnson is coming back. Ochocinco said he's changing his name back to Johnson. #whatsupwiththat"
This doesn't look like much news from the Ocho camp.   He is all about self promotion.  But could he be doing this in the expectation of a trade or release?  Chad Johnson is probably not going to be in Cincinnati depending on what you read, and he will be looking for a new NFL team.  So if that team doesn't have the number #85 available he is sure to not look stupid with OCHOCINCO over his new number.
I could be reaching here… or I could be predicting something.