Carson Palmer Will Retire if the Bengals Don't Trade Him
Updated: January 24, 2011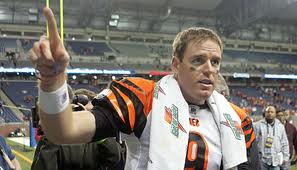 Is it me or do things just get crazier and crazier in Cincy every single year? Just last year, they sign Terrell Owens, and the TOcho show debuts. Then this offseason Marvin Lewis is let go as coach for less than 48 hours, only to return with an extension. There is no matter of logic that can explain what is going on in Cincy these days.
Anyways, the Bengals former Pro Bowl QB Carson Palmer has threatened the organization with his retirement if he is not traded or released. Why? I have no idea really. From the outside looking in it seems that he may not be up to playing for Marvin Lewis another year.
With so many teams looking for a QB, Vince Young, Donovan McNabb, Kyle Orton, and now Carson Palmer are all going to be available proven commodities in a year with a weak quarterback class. I think that Tennessee, Washington, Carolina, Buffalo, Arizona, and Miami could all be in the hunt to grab a veteran and you may see a few QBs slip on draft day once the dust settles.