Order Your Marcus Mariota Titans Jersey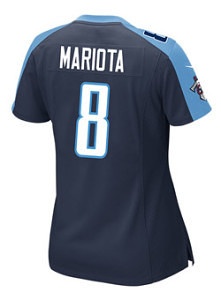 "With the second pick in the 2015 NFL Draft, the Tennessee Titans select Marcus Mariota quarterback Oregon."
And like that a new era in Titans football kicked off. With a new quarterback, the team is set to play a new style of football in Nashville. Also, thousands of Marcus Mariota Titans jerseys are set to fly off the shelves.
Why You Should Get a Marcus Mariota Jersey this Season
The Titans have struggled, we all know that. So anything to get excited about is a good thing. Especially when a new quarterback is in town.
Since Mariota is a rookie, chances are if you're a fan you don't have his jersey. You don't want to be that guy with an outdated Vince Young or Jake Locker jersey this year. It's time to update your look with the new quarterback's diggs.
Another reason is simple: the Titans are switching their uniforms. No they aren't getting a complete overhaul but Tennessee is switching to their navy blue NIKE jerseys as the home look.
Ready to get your new jersey? Click here to see if any are in stock.
How Marcus Mariota got his Valued #8 Jersey
Upon coming to the team there was one problem. The #8 jersey was already worn by a player, kicker Ryan Succop. Usually in NFL circles the rookie has to fork over a huge amount of money or a high priced gift to get his valued jersey number. This case was a bit different.
Rumor is that Marcus had to arm wrestle Succop for the number. Succop posted a series of instagram videos claiming he was working on his upper body strength in preparation for a heated match.
No word on if the match actually happened. According to Titans general manager Ruston Webster, he "got the ball rolling" on the number change before Mariota even came to Nashville. So in the end, #8 was his all along.
Get Yours Today
Don't wait, click here to get yours today with free shipping!