Washington Redskins 2018 Mock Draft V. I
Updated: September 2, 2017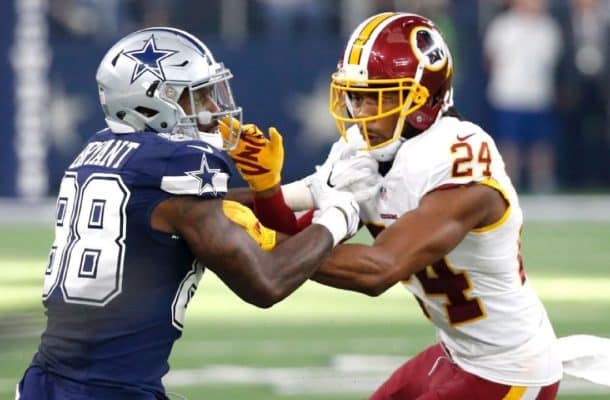 What will the Redskins do? In one year we've seen DC's team lose their speedy veteran WR and engage in a stalemate with QB Kirk Cousins that will likely end in Kirk leaving the team. With Matt Stafford just signing for the most QB money EVER, it is very unrealistic to envision Washington handing over even more money than they refused to this offseason to Cousins.
Here are the 2018 draft projections from DraftP, one of our veteran members of the draft community. Check back for more of his mocks during the year.
2018 Redskins mock draft below:
In this mock draft I'm working it as if the Skins finished with an 8-8 record that puts them at 16 in every round.

I have two trades, (1) The Browns trade up to get the Redskins Rd. 1 pick 16 and in return the Skins get Rd. 1 pick 26, Rd. 2 pick 58 & Rd. 4 pick 110.

(2) The Colts trade up to get the Redskins Rd. 3 pick 80 and in return the Skins get Rd. 3 pick 85 & Rd. 5 pick 159.

Team needs; QB, WR, CB, G, S, RB, C
1. Redskins: Quenton Nelson OG Notre Dame
(From Browns) Rd. 1, pick 26 The Redskins select G Quenton Nelson 6-5, 325 Lbs. from Notre Damn. Nelson is the top inside offensive lineman in the 2018 draft. He is a strong mauler that is very good in both run and pass blocking. The Redskins need an immediate upgrade over Shawn Lauvao who has been the weakest link on the O-line and is poised to become a FA in 2018. Nelson should be a day one starter.
2. Redskins: Luke Falk QB Washington State
Rd. 2, pick 48. The Redskins select QB Luke Falk 6-4, 225 Lbs. from Washington State. With Kirk Cousins future with the Redskins in question it only makes since that the Skins would spend a high draft pick on a talented prospect that they can groom into a future starter. Falk has a very accurate arm with solid deep ball strength, good mobility and pocket awareness.
3. Redskins: A.J. Allen S Northern Iowa
(From Browns) Rd. 2, pick 58. The Redskins select FS/SS Armani Watts 5-11, 205 Lbs. from Texas A&M. While Watts only has average size for the position, he does have exceptional range and is a fierce hitter. Watts can play either safety position and some corner as well. Outstanding ball skills, great speed, very athletic.
4. Redskins: Corey McBride WR TCU
(From Colts) Rd. 3, pick 85. The Redskins select WR Danta Pettis 6-1, 192 Lbs. from Washington. Pettis played second fiddle to 2017 1st round pick speedster John Ross but this year he gets to strut his stuff as Washington's #1 wideout. Pettis has great speed in his own right and the ability to make acrobatic catches. Also, Pettis is a dangerous punt and kickoff returner. Deep threat.
5. Redskins: Frank Ragnow C Arkansas
(From Browns) Rd. 4, pick 110. The Redskins select C/G Frank Ragnow 6-5, 319 Lbs. from Arkansas. The Redskins currently have Spencer Long a converted G playing only his 2nd season at C penciled in as the starter who is set to become a FA in 2018. The Skins also drafted in the 6th Rd. of this years draft Chase Roullier from Wyoming which word has it the Skins are high on but in my opinion lacks the mobility to be a starter. That brings us to Frank Ragnow who has the size, speed and mobility to become a day one starter. Strong run blocker that gets to the second level to make key blocks. Good in pass protection, has a low center of gravity to help absorb bull rushers.
6. Redskins: Cameron Smith ILB Southern California
Rd. 4, pick 118. The Redskins select ILB Cameron Smith 6-2, 245 Lbs. from USC. Smith is one of the best linebackers in college football and he only falls to the Redskins here if he posts what I figure to be a slow 40 time at the combine. Smith looks like middle linebacker with excellent instincts. The Skins currently have 3 ILB's set to become FA so selecting a solid player like Smith only makes since.
7. Redskins: Jacob Sobotka OLB Iowa
Rd. 5, pick 154. The Redskins select ILB/OLB Jacob Pugh 6-4, 247 Lbs. from Florida St. The Redskins are currently a bit thin at OLB. Pugh has good speed and high energy nonstop motor. Pugh could move inside if needed.
8. Redskins: Sony Michel RB Georgia
(From Colts) Rd. 5, pick 159. The Redskins select RB Sony Michel 5-11, 222 Lbs. from Georgia. Michel is basically a change of pace/ 3rd down back at GA. He has excellent hands and break away speed plus solid build to take a pounding if needed. The Skins currently don't have a guy like this on the roster. He kind of reminds me of Redskins great Terry Allen.
9. Redskins: Pat Porter CB Jacksonville State
Rd. 6, pick 195. The Redskins select CB Priest Willis 6-2, 205 Lbs. from Texas A&M. Willis is a solid press corner with very good length and size. Highly competitive corner.
10. Redskins: Frederick Jones DT Florida State
Rd. 7, pick 238. The Redskins select DT/NT Joshua Frazier 6-4, 315 Lbs. from Alabama. The Redskins are still looking for a NT and although they are hoping former 1st round pick Phil Taylor can resurrect his career in Washington, at 29 and his long ranging history of injury doesn't make Taylor a long term fit. Frazier is a solid run stuffer that has been a backup for his collegiate career is finally getting the opportunity to start for the Crimson Tide this season. His stock should rise if he can show some pass rush.