Dallas Cowboys 2018 NFL Mock Draft 4 Rounds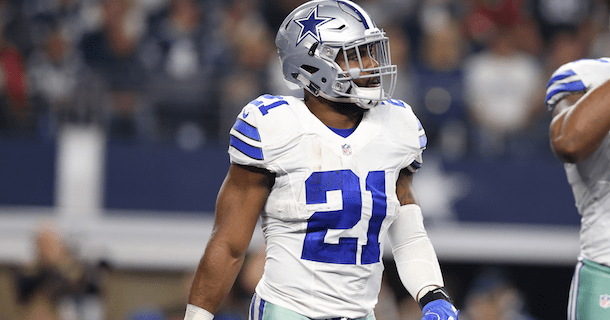 What will happen to the Cowboys? The Dallas Cowboys are facing a six game suspension of superstar RB Ezekiel Elliot in a year in which they are favorited by many to come out of the NFC. Will this derail Dallas' 2017 season? We'll see.
Cowboysfan1993 has his thoughts on the matter. He recently dropped a brand new Cowboys mock draft with the picks Dallas may make in 2017.
Here are his picks below:
This is a mock draft that is determined by the rankings of the players on CBS sports. I feel that the Cowboys can once again make the playoffs. So they will at least be drafting in the 20s.
1. Cowboys: Cameron Smith ILB Southern California
Round 1: The Cowboys have a few issues at LB. Sean Lee while an excellent players, gets hurt and is on the wrong side of 30. When healthy he's one of if not the top LB in the NFL. Anthony Hitchens has been an iron man. Not missing games and playing fairly well when called upon, but isn't truly a special player, and his contract is coming to a close very soon. He may or may not be resigned, and if not the Cowboys are left with a void at the LB position and lose a lot of depth with it. Jaylon Smith is an exciting player, but in his first preseason game, I still feel he has a very long way to go. There is a chance he may never be a special player. And finally the Cowboys potential starter Damian Wilson was arrested for a weapons charge. At some point the Cowboys need to start cutting players who put themselves in bad positions. Dallas cannot afford to have suspensions every season. Cameron Smith is a player that compares favorably to Sean Lee. He's a good sized LB who is capable of doing it all in coverage, run support, and as a blitzer. He is an incredibly smart LB weaving in and out of traffic and getting to the ball carrier. He also features quality athleticism. At this spot the Cowboys are getting a starting LB that can fill the needs going into next season.
2. Cowboys: Sam Hubbard DE Ohio State
Round 2: This is another issue the Cowboys face which is DE. The Cowboys did draft Charlton, but I do not feel he is a RDE. He's more of a LDE, and the Cowboys have a lot of depth there. The strength of the D line is at the DT spots. Tapper and Moore have some ability, but I am not sure if they are the answers there either. Again Moore and Irving cannot be relied on, while also being suspended. The Cowboys have to start moving on from guys who continuously get in trouble for off the field issues. You can't help the team if you can't make the games. Sam Hubbard is a very good run stuffer, while being equally as good as a pass rusher. He possesses a very good first step ability while using a lot of pass rush moves to get to the QB. The issue is more so that he's not super flashy and isn't what one would consider a star pass rusher. He's a very smart player who is assignment sound, and when you play in the Marinelli system, you do not have to be special, but you do have to give max effort and Hubbard does that just as well as anyone.
3. Cowboys: Trey Adams OT Washington
Round 3: It is a bit of a surprise, but O line could be a need going into next year's draft. Tyron Smith, Zack Martin, and Travis Frederick are all very good to great players, but the other two spots are a little harder to determine. Collins hasn't found a home yet, while he's shown flashes, he hasn't been consistent enough as a player. As far as LG is concerned, I am not sure any of the guys on the current roster are good enough. Byron Bell has been awful. Cooper has been slightly better, but his injury history is very concering. They may need to draft an O linemen in Trey Adams. Adams has played OT at Washingotn, but arm length may force him to move inside to OG. However, even though he's 6'8″ and about 320 pounds the guy is very athletic, able to get out in space and pull, while not having many issues making blocks at the 2nd level.
4. Cowboys: Myles Gaskin RB Washington
Round 4: The Cowboys need a new RB, not to replace Elliott, but to be a backup that has ability. McFadden and Morris are getting older and McFadden isn't very explosive, and Morris is a volume runner who needs a bulk of carries to be effective. Rod Smith as flashed, but is still a questions mark. Myles Gaskin is an effective runner that"s more quick than fast, and may not possess a lot of power running ability. However, his shiftiness and ability to find the hole make him a valuable runner. He may not be elite as a pass catcher, but has done well when asked to. However, his blocking is what separates him from most of the RB in this class. He is capable of picking up blitzers and that is valuable in the Cowboys offense. He is rarely out of position, and his technique is sound. Gaskin may not be a special RB, but he is a very solid one. If Elliott were to get hurt or suspended, Gaskin is capable of taking over especially in pass protection.