How Bad GMs Created the Kevin Durant Super Warriors [Editorial]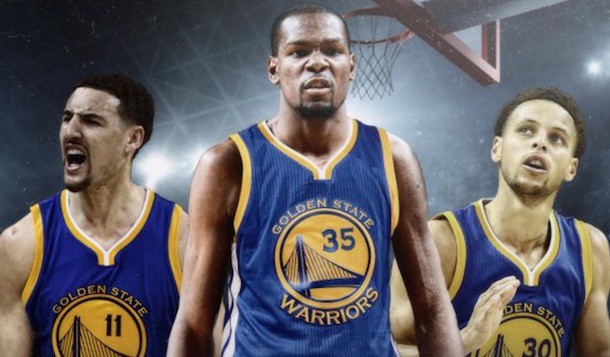 The Golden State Warriors just won their third ring in team history, defeating the Cleveland Cavaliers in five games. As many expected the series was not very competitive due to the Warriors core being extremely overpowered in comparison to the Cavs "big three."
Let's be clear. No one is saying that Kevin Durant isn't the second best player in the world, but we also aren't running to congratulate him for joining a 73-9 team that was about 6 minutes away from winning a title without him.
Kevin Durant secured the bag. I get that. He was a free agent and free to play where he wanted. Golden State, Utah, Sacramento, New Orleans, CBA, NBADL, Africa, Thailand, anywhere he wanted to play basketball in 2017 was free game. No one is questioning that.
What Durant did secured his legacy. He saw an opportunity to get a guaranteed ring (barring injury) and took it. While we can complain here in 2017, KD will go down in history with the winners. You have to erase his name off the list of great players who didn't win rings under Jordan such as Karl Malone and Charles Barkley. KD is a champion and no one can take it away from him.
How Durant got his title was not "honorable" but there are no rules in war.
So who's to blame for this? How did we get to the era of the Ultimate Warriors?
Easy. Bad team planning. And I have three teams in particular to blame: the Minnesota Timberwolves, Washington Wizards and Charlotte Hornets.
Let's go back in time to the 2009 draft. Everyone knew about Stephen Curry. Multiple teams made it known that he was on the radar and you know who one of those teams were? The Washington Wizards. The same Wizards who held the fifth pick in that draft.
The Wizards worked out Stephen and it looked like he was going to be a Wizard and you know what happened? The Wizards traded the pick. For who you ask? Randy Foye and Mike Miller. The Timberwolves would go on to draft PG Johnny Flynn at the fifth spot, Ricky Rubio sixth, and Curry fell seventh to Golden State.
Were Ricky Rubio and Johnny Flynn ever better players than Curry? Nope. And the Wizards knew this, but instead mortgaged the pick for veterans who could help them immediately.
For what it's worth, the Warriors would draft Ekpe Udoh the next season over Gordon Hayward and Paul George but it didn't matter because of what would happen the next year…
The Charlotte Bobcats (Hornets) drafted Bismack Biyombo and Kemba Walker over Klay Thompson.
The Bobcats, a team that has had a perpetual hole at the SG position to this current day, passed on a lottery pick that fell right in their lap due to "attitude issues" in college.
This is also the draft where the Wizards selected Jan Vesley sixth overall.
No surprise. Bad teams make bad draft decisions. I won't even rag on the Wolves for taking Derrick Williams second because at the time he was the best player in the draft (yes over Kyrie Irving who played less than 10 collegiate games.)
The very next draft the Warriors draft Draymond Green with the 35th pick. Charlotte drafted Jeffrey Taylor with the 31st pick and Washington took Tomáš Satoranský with pick number 32.
As you see, if either one of these teams were somewhat competent at the draft process then there is no Warriors core. There is no super team for Kevin Durant to join. Either he goes to Washington to play with Curry or goes to Charlotte to play with Klay and Draymond.
The GMs brought this on themselves. You cannot blame Golden State for mastering the art of evaluating players and picking up where other GMs left off. Much like how you cannot blame the Bulls for selecting Jordan after Sam Bowie.
Bad teams rebuild through the draft. That is why the lottery system exists. But when teams such as the Nets and Wizards exchange their future for immediate gratification in the win column the great GMs and advisors such as Golden State's Jerry West feast on them.
Who do you think the Nets would rather have right now? 19 year old Markelle Fultz or 41 year old Kevin Garnett? Because that's essentially the exact trade that occurred.
Stephen Curry or Randy Foye? Again, another trade that really happened.
We can't blame KD for being an opportunist and creating a super team. It's time to blame the NBA GMs who let the super teams happen.