Why the New York #Giants Signed a Wife Beater Before Colin Kaepernick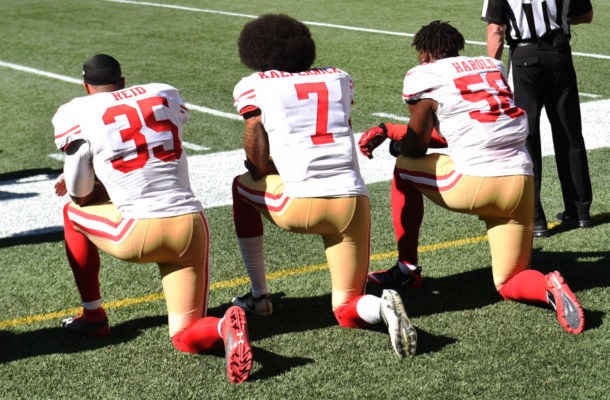 Scratch the Giants off the long list of teams that will not be entertaining the services of free agent QB Colin Kaepernick.
Yes, Kaepernick got a workout with the Seahawks and Spike Lee even posted that he was signed but ultimately that was untrue. Kap is still looking for his new team.
One team that will not be is the New York Giants. Why? Because the owner is r…..
…really concerned about his fan base.
Remember folks, these are the same New York Giants that paid domestic abuser Josh Brown $4 million dollars:
New York Giants owner John Mara told Jenny Vrentas of The MMQB recently that his team has never discussed the possibility of signing Kaepernick. That makes sense because they have a solidified starter in Eli Manning and drafted former Cal star Davis Webb in the third round, but Mara said he would also be concerned about backlash from Giants fans after the letters he received about national anthem protests.

"All my years being in the league, I never received more emotional mail from people than I did about that issue," Mara explained. "'If any of your players ever do that, we are never coming to another Giants game.' It wasn't one or two letters. It was a lot. It's an emotional, emotional issue for a lot of people, more so than any other issue I've run into."

Ironically, Mara made no mention of former Giants kicker Josh Brown, whom the team signed to a new contract after he was arrested for domestic violence. Despite some of the incredibly disturbing details that have emerged from that case, Mara apparently received more letters from fans about national anthem protests than a player who abused his wife.

There are plenty of teams that would not sign Kaepernick with our without his controversial political stances, but Mara's honesty was quite telling. The fact that only one team has hosted the 29-year-old quarterback for a visit has to do with a lot more than just his shortcomings as a passer.
Remember when the Giants' entire team and staff were forced to stand for the anthem after the protests?
Pretty deliberate sideline for the Giants during the anthem tonight. All players and staff standing. pic.twitter.com/5iqUJp4eqQ

— tara sullivan (@Record_Tara) August 27, 2016
I'll just leave this here…