The ULTIMATE Redskins Mock Draft IV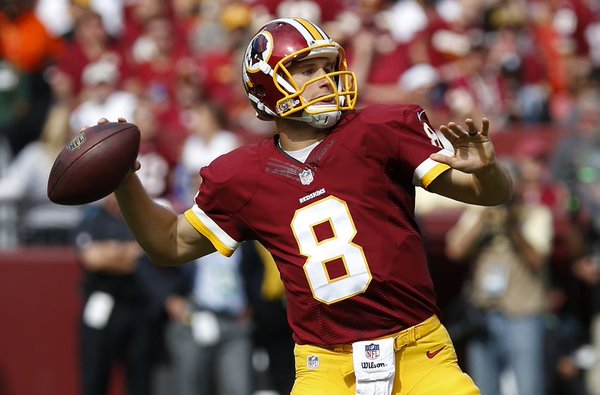 All Hail! The Nation Capital's team looks to rebound on a season that showed much promise in 2016. Last year Josh Norman was the big addition to this divison but what does the future hold with the Giants making a power move in acquiring Brandon Marshall?
Can the Redskins once again compete for this crown or will the Dallas Cowboys and Ezekiel Elliot run away with it again? A good draft could help remedy things in DC quickly.
Draftp is back one again with his 2017 Redskins mock draft picks below:
The theme of this draft is Fast & Furious. Looking at the Redskins defense their is an obvious lack of speed and explosiveness across the board. This mock draft is going to address that problem. I traded back in the 2nd round with Miami and I got their 2nd and a 5th round pick. Draft needs: Edge, ILB, FS, DL, G, WR, CB.
1. Redskins: Haason Reddick OLB Temple
Rd. 1, Pick 17. The Redskins select ILB/OLB Hasson Reddick 6-1, 237 lbs., 4.52 (40) Reddick has risen like a rocket up draft boards since the Senior Bowl and really knocked it out of the park at the NFL Combine. Fast & Furious is how he plays the game. Will give the Redskins flexibility to move Reddick all around the defense and force opponents to game plan for him.
2. Redskins: Derek Rivers DE Youngstown State
Rd. 2, Pick 54. ( TRADE DOLPHINS ) The Redskins select OLB/DE Derek Rivers 6-4, 248 lbs., 4.61 (40) Rivers a small school guy has also risen up draft board extremely fast. He turned a lot of heads at the Senior Bowl and blew it up at the NFL Combine. Rivers is ideally suited for a 34 defense as an edge speed rusher but will also create havoc with his hand in the dirt in 43 alignment on passing downs. Stays low and can catch the edge against offensive tackles. Needs to prove he can handle NFL talent.
3. Redskins: Marcus Maye S Florida
Rd. 3, Pick 81. The Redskins select FS Marcus Maye 6-0, 210 lbs. 4.54 (40). The Redskins know all they need to know about Maye. His college coach is on staff now with the Redskins. Maye has the speed to play single high or can move over to play Tampa two. Strong hitter and solid tackler makes him well suited to play in the box.
4. Redskins: Ethan Pocic C LSU
Rd. 4, Pick 114. The Redskins select G/C Ethan Pocic 6-6, 310 lbs. 5.15 (40). The Redskins are set on the O-line but Pocic, another of many gifted offensive lineman to come out of LSU the last couple of years, may force a change at LG or C with solid play in training camp and a solid preseason. Pocic 6-6 stays low with solid balance for his height. A solid run and pass blocker, if he played more G at LSU his draft stock would be much higher. If the Skins can draft him here will be a real steal.
5. Redskins: Dede Westbrook WR Oklahoma
Rd. 4, Pick 123. The Redskins select WR DeDe Westbrook 6-0, 178 lbs., 4.39 (40). This Redskins currently lack a speed guy at wide receiver. Westbrook is a solid reliever with the speed to burn defenses. Smother route runner, deep threat that should be a nice weapon for Captain Kirk.
6. Redskins: Jarron Jones DT Notre Dame
Rd. 5, Pick 154. The Redskins select DT/NT Jarron Jones 6-6, 316 lbs. 5.33 (40). The Redskins need to add solid depth to the defensive line. Jones is limited in pass rush skills but does have a solid bull rush. He finds himself in the opponents back field on a lot of plays. Can beat double teams. Could develop into a starting NT.
7. Redskins: Charles Walker DT Oklahoma
Rd. 5, Pick 179. ( TRADE DOLPHINS ) The Redskins select DT Charles Walker 6-2, 310 lbs. 4.96 (40) from Oklahoma. At the NFL combine Walker really impressed me with his speed and lateral movement in pass rush drills. Walker's draft rank has fallen over this last year do to health concerns, concussions, which derailed his final season. Team doctor will have to monitor his health a little more closely but if he can stay healthy he could make a real splash as a rotational player.
8. Redskins: Aaron Jones RB Texas-El Paso
Rd. 6, Pick 201. The Redskins select RB Aaron Jones 5-9, 206 lbs. 4.56 (40). Jones could be a real steal for the Redskins. He was at times the only real offense for the Miners. In 2016 Jones ran for 1773 yards and 17 TD's and went 28-233 yards and 3 TD's receiving.
9. Redskins: Nate Hairston CB Temple
Rd. 6, Pick 209. The Redskins select CB Nate Hairston 6-0, 196 lbs. 4.52 (40). Hairston a converted wide receiver, doesn't have a lot on experience at the position but I liked what I saw from him at the NFL Combine plus he is Temple tough. He had to handle a lot of adversity while at Temple so I believe he can handle the jump to the pros. Average size and speed to play corner, loose hips, smooth change of direction.
10. Redskins: Lorenzo Jerome S Saint Francis (PA)
Rd. 7, Pick 220. The Redskins select DB Lorenzo Jerome 5-10, 204 lbs. 4.70 (40). Jerome had a solid East West Shrine Game that earned him an invite to the Senior Bowl where he had a wonderful week and showed up big time in the game but he had a very slow 40 time at the combine that dropped his stock like a hammer. The Skins will be looking for solid depth and special teams players at this point in the draft. Jerome will need to prove he can play special teams at a high level to stay on the team otherwise he might have to spend some time on the practice squad to develop before he gets the call up.
11. Redskins: Josh Tupou DT Colorado
Rd. 7, Pick 235. The Redskins select NT Josh Tupou 6-3, 253 lbs. 5.35 (40). Tupou is largely a developmental player for the Skins but his size is undeniable. He looked like a man among boys at the Senior Bowl. Needs to work on his conditioning, will be a practice squad player for most of his first season but next season he could be a real monster for the Skins.