6 Players the Jets MUST Draft in 2017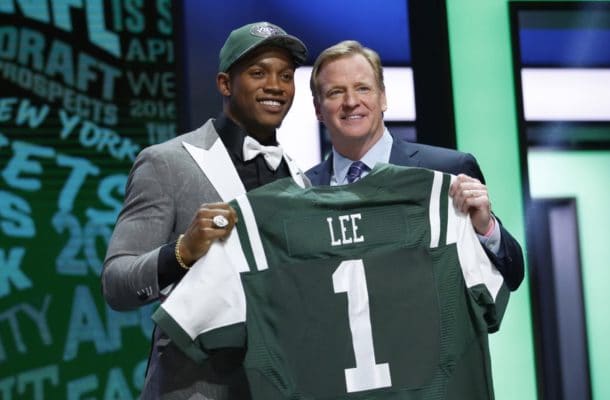 We are a week out from the draft! Yes, yes, it will be a great night and several teams will get better in a hurry. One of those teams hoping to get better in a hurry: the New York Jets.
It has been well documented that the Jets have lost veterans such as Brandon Marshall and Geno Smith but every season is a year to get younger and better.
jbassetta22 is back with another 2017 Jets Mock Draft:
Just over a week to go, I predict all Jets selections.
1. Jets: Malik Hooker S Ohio State
With injury and lack of production plaguing the secondary, the Jets must address it extremely early in the draft. The 3 secondary players who will be chosen in the top 10 are S Jamal Adams, CB Marshon Lattimore, and S Malik Hooker. I am predicting Adams is gone by this point, and the Jets take Hooker over the injury-prone Lattimore. Maybe the best playmaker in the draft, Hooker brings turnover potential to a team that doesn't force any. With Marcus Gilchrist hurt, and Calvin Pryor declining last season, Hooker is a perfect fit and also a best player available at #6.
2. Jets: Tre'Davious White CB LSU
Like I said, the Jets REALLY need help in the secondary. The only notable signing in free agency was Morris Claiborne, who immediately slides into the CB1 slot. The #2 slot is still uncertain, however, which is why they select fellow LSU star, Tre'Davious White. Although not big at 5'11 192, White makes up for it in coverage ability. You can teach tackling (Although the Jets coaches can't), you can't teach speed and instincts. White has the ability to play outside or nickel corner and is special with his mechanics.
3. Jets: Pat Elflein C Ohio State
After the secondary, the most glaring hole is quarterback. They aren't solving that problem at this point in the draft. The next biggest need is offensive line, as the days of consistency with D'Brickshaw Ferguson and Nick Mangold are gone. With both tackle positions presumably filled with Kelvin Beachum and Ben Ijalana, and both guards seemingly locked with James Carpenter and Brian Winters, they are trusting backup center Wesley Johnson with starting duties. They need to bring in a leader on the line, and a guy that can stick around for years. Pat Elflein is a captain's captain and can begin the rejuvenation of this offensive line similar to what Ferguson and Mangold did their rookie seasons.
4. Jets: Jeremy Sprinkle TE Arkansas

*3rd round Compensatory pick. With their second pick in the 3rd round, the Jets select a less known name from the Tight End position. Even if Jake Butt or Jordan Leggett were still available, I prefer Sprinkle as a fit for NYJ. A dual-threat as a blocker and receiver, the Jets need that type to play all 3 downs and contribute in the redzone.
5. Jets: De'Angelo Henderson RB Coastal Carolina
In a draft that is deep in running backs, the Jets can find an impact player in the 5th round. De'Angelo Henderson is an interesting fit for the Jets because he can do it all. At 5'7 208, he compares similarly to a Maurice Jones-Drew or Branden Oliver as he has speed and some power, and bowling-balls his way through defenses at times. On a team with a lackluster offensive line, you need running backs who can make plays on their own.
6. Jets: Matt Milano ILB Boston College
Late in the draft, teams look for either physical freaks who haven't put it together yet, or work-ethic guys who play hard and can contribute on special teams. Milano is the latter. He loves to tackle and will be a coach's favorite on kickoffs.