The ULTIMATE Redskins Mock Draft v. III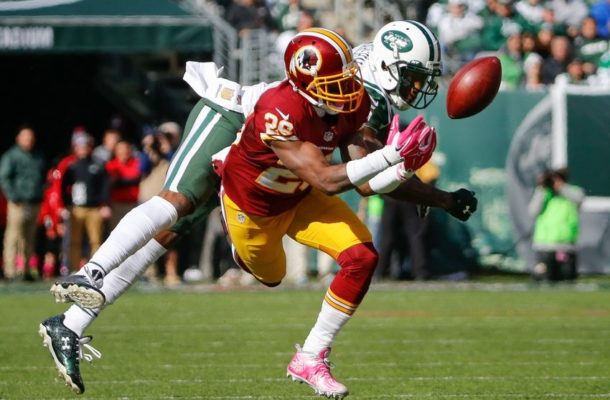 The Redskins may end up trading Kirk Cousins, but for now it looks like he will be the chosen man in DC. If Kirk is there things will undoubtedly be tough on him as top receivers Pierre Garcon and Desean Jackson have left for greener pasture, giving the Skins a whole new receiver corp going forward.
Will young players such as Josh Doctson step into the holes left by the veteran free agents? We will have to see.
Here is draftp's latest mock draft on how the Redskins will rebound in 2017:
In this my 3rd mock draft I'm looking to strengthen the defense and add a few key spots on the offense along the way. I started this draft with 10 picks but made a trade with the Bucs in the 2nd round and picked up there 2nd round pick and a 5th round pick. Draft needs : DL, FS, CB, ILB, EDGE, G, RB, WR.
1. Redskins: Forrest Lamp OT Western Kentucky
Rd 1, Pick 17. The Redskins select OL Forrest Lamp 6-4, 309 lbs. I see Lamp coming in day one as the starting LG for the Redskins. Lamp is the best OL available, he should add both power and athleticism, has a mean streak, can handle both speed and bull rushes. Uses hands well. Lamp will be a nice upgrade at LG and should stop the rumors of moving Trent Williams to guard. Shaking my head over that thought! Redskins fans should love that I am drafting another Hog. BTW, 2 years ago I called the Brandon Scherff pick as a guard. You do not pass on players like this!
2. Redskins: Raekwon McMillan ILB Ohio State
Rd. 2, Pick 50 ( BUCS TRADE ) The Redskins select ILB Raekwon McMillan 6-2, 240 lbs. McMillan is a solid ILB prospect that will try to prove he is a 3 down linebacker. At the NFL Combine he proved he has the tools now he needs to show the Skins he can play. McMillian is the 2nd rated ILB on CBS Sports player ranking and his film shows him as a run stuffer with good speed and instincts. He should be able to compete for playing time in his rookie year and possibly a starting job.
3. Redskins: Sidney Jones CB Washington
Rd. 3, Pick 81. The Redskins select CB Sidney Jones 6-0, 186 lbs. This is a value pick for the Redskins. Like CB Kendall Fuller last year, Sidney Jones draft stock has dropped do to injury. Jones ran 4.47 40 at the combine but torn his Achilles in his pro day and it is unknown how long this injury will keep him side lined. Before this injury he was looking to get drafted in the top 20 in the 1st round. Cat like reflexes, silky smooth change of direction, true cover corner that can stay with small speedy wideouts that burned the Redskins all last season. Jones is a future NFL starter.
4. Redskins: Marcus Maye S Florida
Rd. 4, Pick 114. The Redskins select FS Marcus Maye 6-0, 210 lbs. Maye is a solid FS that really lowers the boom. He has the speed to play single high or can mix things up and be very effective in the box. Solid 4.54 40 at the combine. Plus, the new secondary coach for the Redskins, Torrian Gray, was his position coach in college last season so the Redskins know exactly what they are drafting with him.
5. Redskins: Joe Mixon 6-1, 228 lbs. from Oklahoma
Rd. 4, Pick 124. The Redskins select RB Joe Mixon 6-1, 228 lbs. from Oklahoma. The Redskins take a chance on this troubled player. On the field Mixon is a difference maker and a potential steal of the draft but off the field he is considered a high risk and a lot of teams will not even put him on their draft boards. Not getting into Mixons transgressions but the Skins have been known to give second chances to other players with similar offenses. Mixon has good speed, great hands, good vision, potential every down back.
6. Redskins: Dede Westbrook WR Oklahoma
Rd. 5, Pick 155. The Redskins select WR DeDe Westbrook 6-0, 178 lbs. Westbrook has a lot of potential and excellent speed, ran 4.39 40 at the Combine. He can take the top off of defenses and that is something the Redskins lost this off season with the departure of D Jax going to the Bucs.
7. Redskins: Jarron Jones DT Notre Dame
Rd. 5, Pick 168. ( Bucs Trade ) The Redskins select DT Jarron Jones 6-6, 316 lbs. Jones has good size and is ox strong, gets great bull rush push but sometime may take plays off, a bit inconsistent but he should be able to compete for playing time he might be a candidate to play NT.
PLEASE FLIP THE PAGE BELOW!!
Pages: 1 2