The Inevitable KIRK COUSINS TRADE Mock Draft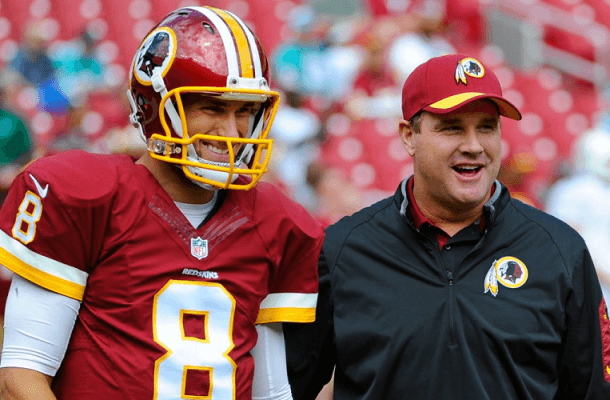 Is Kirk Cousins a franchise QB? That is actually a hot debate in NFL circles and for the most part it seems like the answer is a glaring "not really."
Kirk still gets to prove himself on the field and currently the Redskins pretty much have to play him, or select another player in the draft. With Washington unable to come to terms with a reasonable long term deal it does seem like Kirk will be elsewhere and a new player will be at QB in DC.
But just who accepts the trade? Who do the Skins pick?
Those questions and more are answered in danjr's latest 2017 mock draft below:
49ers cave and trade Kirk Cousins to the 49ers for picks 34(2nd rd), 109(4th rd) & 2018 1st rd pick. Pats Trade Malcolm Butler to the Saints for the 32nd pick in the draft. For other trades i use the trade value chart to help with compensation. Please leave comments. 3/23/2017
1. Browns: Myles Garrett DE Texas A&M
This is a no brainier. Garrett is the best pick in the draft so the Browns take him.
2. 49ers: Solomon Thomas DE Stanford
Now that the 9ers have their QB of the future they can afford to go BPA that fills a need. The last 2 years the 9ers have taken DL but in the new defensive scheme they will fit more on the inside. Thomas would be the edge rusher the 9ers desperately need.
3. Bears: Jamal Adams S LSU
I thought about Allen here but the Bears need an impact player in the secondary and Adams is considered among the safest picks in the draft. Day 1 starter and an immediate upgrade. Perfect fit for the Bears.
4. Jaguars: Jonathan Allen DE Alabama
The Jags have spent and drafted in a big way on the defense the last few years but Allen is a perfect interior pass rusher next Malik Jackson. Combine that with Fowler, Campbell and Ngakoue. This really could be a team on the rise.
5. Browns: Mitch Trubisky QB North Carolina
***TRADE***Browns trade picks 12 & 33 to the Titans for picks 5 & 124(4th rd) This trade is within 32 pts on the value chart. The Titans get back into the 2nd round and actually improve on the pick to #1 pick in the 2nd round while Cle still has an additional 2nd rd pick. The Browns struck out on Jimmy G so they MUST get the QB of the future if this organization will ever become successful. Reports are the Jets are very high on Trubisky so they have to leap up to get their man.
6. Jets: Marshon Lattimore CB Ohio State
I think the Jets interest in Trubisky is real but with him gone 1 pick ahead the season tank is officially on as they grab the best CB in the class, fill a huge need and hope they are in position to take a QB next year as the class looks to be much better.
7. Chargers: Malik Hooker S Ohio State
Pretty much going with every other mock out there. Hooker to the Charges makes too much sense so no need to overthink.
8. Panthers: Leonard Fournette RB LSU
Similar to the Chargers the Panthers have a huge need and the perfect player falls right into their lap. Fournette has drawn comps to AP and he will help lighten the load off Cam to do everything himself. He doesnt have the same skill set as Zeke but they Panthers are hoping he makes a similar impact.
9. Redskins: Deshaun Watson QB Clemson
***TRADE***The Redskins trade picks 17 & 49(2nd rd) to the Bengals for pick 9. This trade is within 10 pts on the chart. The Skins know that Cousins is gone after this season as he has already signed his tag. If he leaves in FA in 2018 the best the Skins do is get a 2019 comp pick so they get some value for him by trading him this year to the 9ers. They jump up ahead of the Bills, Saints and Cardinals who all could be looking at QB. Watson may sit for a year so maybe a QB like Cutler makes some sense on a 1 year prove it deal.
10. Bills: O.J. Howard TE Alabama
Howard has crushed the draft process and is solidly a top 10 talent. The Bills have to get some more offensive weapons and a TE is always a QBs best friend. Great fit for the Bills.
11. Saints: Derek Barnett DE Tennessee
The Saints got Butler for the 32nd pick so they have to focus on the pass rush. Barnett will be a nice compliment opposite Cam Jordan. QB is an option but I think the Saints are going all in on Brees' last couple of years.
12. Titans: Reuben Foster ILB Alabama
Drops because of some injury history and positional value. Perfect fit in Dick LeBeau's defense. CB might be the biggest need but this class is deep so getting Foster here is too good of value to pass up.
13. Buccaneers: Dalvin Cook RB FSU
.***TRADE***TB trades picks 19, 84(3rd rd) & 2018 3rd rd pick to AZ for pick 13. The Bucs cannot count on Doug Martin who will begin the year on suspension. If they target Cook they will want to jump ahead of the Eagles who have a huge RB need as will as the Colts and Ravens who could be looking at RB. They added a huge weapon in Desean Jackson but they will want to balance the offense and Cook is a homerun hitter that can truly be a difference maker as a rookie.
14. Eagles: Mike Williams WR Clemson
It would not appear that WR is a need for the Eagles as they added Alshon Jeffrey and Torrey Smith but remember Alshons deal is for 1 year & they can get out of Smiths deal after this year. Also Jordan Matthews is in the last year of his contract so they get a long term weapon taking the 1st WR off the board in Mike Williams.
15. Colts: Haason Reddick OLB Temple
IMO this is a perfect fit for the Colts. Reddick can play all over the defense and line up anywhere in a 3-4. He will probably begin on the inside and but expect the Colts to get creative with how they utilize his skills. The Colts have to improve on defense and Reddick is a great building block to build around.
16. Ravens: Corey Davis WR Western Michigan
The Ravens have added some pieces on defense this offseason but they really need an offensive weapon since they lost Steve Smith and Breshad Perriman has not been able to stay healthy. If they want to be able to keep up with the Steelers offense they have to start giving Flacco some targets.
17. Bengals: Taco Charlton DE Michigan
I thought about taking Forrest Lamp here as they lost both Andrew Whitworth and Kevin Zeitler in FA but there should be some guards in Rd2. The Bengals had an awful pass rush last year so getting some new blood on an old DL is a must.
PLEASE FLIP THE PAGE BELOW
Pages: 1 2