6 Players the Dallas Cowboys BETTER Draft in 2017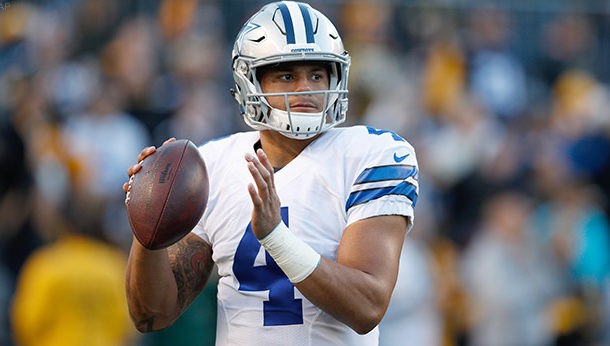 How will the Cowboys bounce back in 2017? Gone is experience in Tony Romo but Jerry managed to keep Terrance Williams on offense to build another year with Dez, Witten and Dak.
What players do the Cowboys need to get over the hump? Well, there are many theories on this and of course this is Mock Draft HQ where we miss nothing. Here are the latest projections from Cowboysfan1993!
Below are the 6 players the Cowboys could look to draft in his 2017 Cowboys mock:
The Cowboys look to improve their defense.
1. Cowboys: Budda Baker S Washington
Round 1 Baker is a very well versed athlete able to play SS, FS, and slot CB, even LB in dime. He would allow versatlity to switch with Byron at multiple spots. He's always around the football, and may be the best open field tackler. He can impact the game as a turnover machine and as a blitzer. He's the best blizter in the secondary in this draft class. He knows how to create turnovers in fumbles and INT's. At times he's so fast to the football he can disrupt a run game before it even begins. He looks like a CB playing S in terms of coverage. He knows how to flip his hips and run. His lack of size could lead to injuries and can hurt him against bigger TE and WR. His speed isn't bad, but isn't great. He's a great tackler, but isn't necessarily a punisher.
2. Cowboys: Tre'Davious White CB LSU
Round 2 The Cowboys only have Scanderick, Brown, and Carroll on the roster. So CB is a need. White isn't the most gifted CB. At only 5'11" 198 lbs. he has solid not great size. Has average speed. He's very experienced, and excels in man coverage. He is a read-and-react CB. He is tought to deal with in coverage, not giving up much space. He knows how to get his hands on passes to knock them down. He doubles as a CB and a ST returner. Struggles in off coverage, solid not great tackler, really improved as a senior.
3. Cowboys: Trey Hendrickson DE Florida Atlantic
Round 3 The Cowboys needs at DE are well documented, especially RDE. Tapper could always make a big leap, but we can't count on it. They take the 6'4″ 270 lbs. kid from Florida Atlantic. He's a well sized athlete who could put on some more muscle. He's very quick off the ball and moves his feet really well. Has long arms and uses his hands very well to keep OT arms off of him. Knows how to force fumbles with 6 in the last two seasons. He's capable playing DE in any scheme. He can also play inside at DT in some situations. Played at a smaller school, but didn't stop him from making an impact in the Florida game. Shorter than ideal arms. Isn't a weak player, but could add muscle mass for stronger OT.
4. Cowboys: David Adams OG Middle Tennessee
Round 4 David Sharpe Florida This may be a reach, but his overall size could intrigue Dallas. He's a big athlete who is a mauler at OT, but doesn't have the strength to play inside at OG. He has slow movement skills. He needs to stop lunging and ends up on the ground too much. However, as a developmental prospect he could be a good project on the O line.
5. Cowboys: Connor Harris ILB Lindenwood
Roound 6 Connor Harris Lindenwood Connor Harris is a very athletic LB who can cover and defend the run and rarely does he give up the edge. He's a very consistent and high effort, high motor player. Very few players can match his intensity down after down. He's capable of playing well in zone coverage as well. Had a bad injury early in his career, shorter than ideal, and one wonders if his stats are inflated because of the school he played at. He can be a good ST LB until he's able to play as a starter. This is a value pick for Dallas.
6. Cowboys: Chad Kelly QB Ole Miss
Round 7 The Cowboys have Dak Prescott, but right now the backup QB spot is a big question mark. There may not be a more gifted QB in this draft than Kelly. He can make all the throws and has an absolute cannon for an arm. He is far more athletic than he's given credit for. He knows where to place the ball on 50-50 throws. Played well against tough competition. However, he too often looks down field for big plays. He can take too long waiting for routes to develop and take unnecessary hits. There is an arrogance about him that shows he isn't afraid of the competition, but it can get him in trouble. Off the field he has numerous issues which is why he could fall this far.