2017 Dallas Cowboys Mock Draft: Divisional Round
Updated: January 13, 2017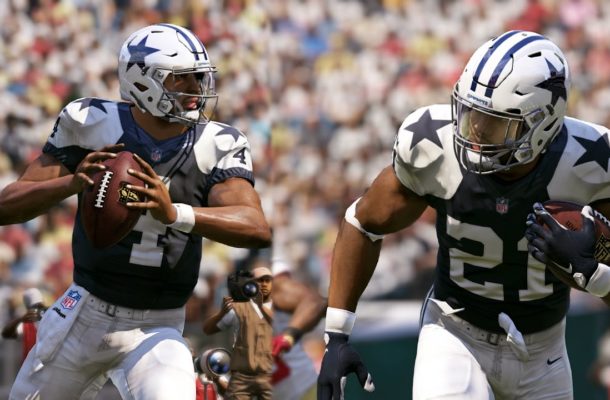 Another week, another Cowboys mock draft. That's right. We are back on the eve of the Divisional Round of the playoffs with an eye on the future of the Dallas franchise.
Now no one knows what will happen when the Green Bay Packers meet the Dallas Cowboys but we do know only one team will prevail to the conference championship. Will it be Dallas or Green Bay?
Either way, Dallas has some decisions to make in the offseason including the draft.
Here are the latest 2017 Dallas Cowboys Mock draft picks courtesy of Cowboysfan1993: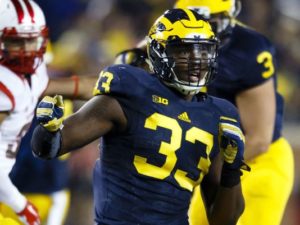 1. Cowboys: Taco Charlton DE Michigan
Round 1 Dallas selects Taco Charlton. Dallas has an immediate need at DE, so this pick is easy if he falls this far. Dallas currently has no one at DE that can rush the passer consistnelty, most of them are good at stopping the run, but they need pass rush. Charlton offers exceptional size at 6'5″ 280 lbs. Similar to David Irving. He has good bulk to stop the run. He has improved his pass rush technique, even adding a counter move to his arsenal if his first technique fails. He uses his speed primiarly to win battles, but has the ability to use his length and strength to catch blockers off balance. Even though he has great speed, his get off isn't slow, just inconsistent. At times he is the last guy off the line, with proper coaching he can improve. He needs to do a better job of holding the edge in the ground game, too often he gets washed out. He also has a nonstop motor.
2. Cowboys: Jake Butt TE Michigan
Round 2 Dallas takes Jake Butt from Michigan. Some may say that Jake Butt only fell this far because of injury, but I say the only reason Dallas has a chance is because Butt has an injury. Looking at Howard and Butt, I came away with the idea that Butt as of this moment is the better player, and it's not as close as some would think. Butt stands at 6'5″ 250 lbs. and he uses all of that size to make defenses cautious when playing Michigan. Butt doesn't have the speed that OJ Howard has, but his speed is deceptive and he can fly by a defender who is caught napping in coverage. He has played in line, in the slot, and as an H back. He also blocks as a pass and run blockers. He isn't afraid to hit LB or S in blocking either. He is about as advanced a route runner as you are going to see a TE be coming out of college, and he is a natural hands catcher that catches anything that goes into his vicinity. He can catch passes on the move, in zone coverage, and isn't afraid to high point a ball. His route running is so advanced, that he seems to always be open. He isn't exactly quick, not able to turn his hips quickly and doesn't change direction fast enough. He could learn that with time. Also while he is a willing blocker it sometimes isn't enough. He at times will engage too high or not be able to sustain his blocks which allows a defender to get involved during a play. He also suffered an ACL injury, while an ACL recovery has improved over the years, there is still no guarantee how he will play. All of his weaknesses are coachable. He has the willingness to improve every area of his game and will try. Jason Witten is great, but is getting old, James Hanna is the only reliable blocker, but seems to get hurt too often, Jeff Swaim has shown flashes, but again got hurt this year, Escobar is a bust, and is a FA, and then Rico Gathers while have great potential, is still in the project area of his career. Butt may have to redshirt his rookie year, but good news is that Dallas doesn't exactly need him this moment as they should be getting a majority of their TE back next year.
3. Cowboys: Kevin King CB Washington
Round 3 The Cowboys take Kevin King. The potential and measurables King has are ridiculous. He's a 6'3″ 190 lbs. freak who surprisingly has loose hips for such a big player. Bigger CB tend to have hip tightness and struggle with smaller quicker WR. Not King. He has the ability to offer help in run support with his size and overall aggressiveness. He has played at both CB and S for Washington, so even if he can't excel at CB, he could find a home at S. He is unreliable as a tackler, while he has the size and the ability to improve, this is an area that can't be ignored. He has to improve on technique in coverage, while it is not awful, some of the things he does can lead to penalties, and his backpedal could get him in trouble with faster WR. The Cowboys may or may not lose Morris Claiborne in FA, even if they retain him, he has not proven he can play a full season. While Scanderick, Brown, and Carr did well to fill in for the injured Claiborne, at times the lack of depth showed when McFadden was forced to play and gave up chunk plays. While King is far from being a project, I do not think exposing him early to advanced route runners and speed players is a good idea. The Cowboys with the emergence of Brown, the improved play of Carr and Claiborne, Dallas now has the luxury of letting a guy sit until he is ready.
FLIP THE PAGE BELOW TO CONTINUE!
Pages: 1 2