Week 15 Dallas Cowboys 2017 Mock Draft
Updated: December 15, 2016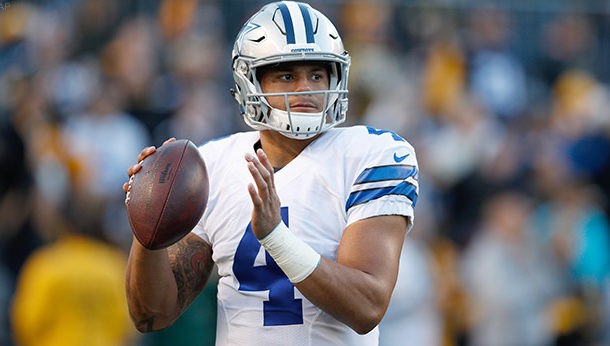 Will the Cowboys bench Dak? Hopefully not, but the rumor mill is swirling. Remember this is a Super Bowl contender with a rookie QB and this may be the last chance for Tony Romo to win the big one.
The Romo/Dak debate is a huge decision that has to be made and the Cowboys' Super Bowl hopes hangs on it.
Whether or not the Boys win it all, life will go on in Dallas. Luckily for us Cowboysfan1993 has posted a 2017 Cowboys mock to help us see how that life might look. Rock with his picks below!
The latest 2017 Dallas Cowboys mock draft below:
The Cowboys will more than likely allow Doug Free and Terrance Williams to walk. Neither are bad players, but neither are great and might look to add some cash in their pockets. The Cowboys go out and sign Sheldon Richardson DE. Dallas had enough interest to inquire about a trade, however the asking price was too much. As a FA I would expect Dallas to go out and coax him into signing with the Cowboys. He has had a few off the field issues, none being as bad as Greg Hardy. But he can make Dallas's D line better being able to play any spot on the D line for Dallas.
1. Cowboys: Taco Charlton DE Michigan
2. Cowboys: Cordrea Tankersley CB Clemson
Surprisingly the Cowboy's greatest strengths on defense have come from the secondary. Brandon Carr and Morris Claiborne have played well contrary to popular opinion. Rookie Anthony Brown has also been good for a 6th round pick. But Claiborne is a FA and Scanderick is getting older. Getting another CB would be good insurance if Claiborne is gone and Brown needs more development time. Tankersley is a perfect fit. He is excellent in zone coverage because of his read and react skills. He is great at being able to keep plays in front of him. He's a taller CB at 6'1″ that is well built being able to handle bigger WR and even TE's. He also isn't shy about getting his hands dirty in the run game. He can play man coverage well, but zone coverage is where he is best. He can get a little grabby though which can generate holding calls from the refs.
3. Cowboys: Courtney Whitehead WR Central Arkansas
Curtis Sameul Ohio St. The Cowboys will need another receiver to replace Terrance Williams as well as Lucky Whitehead. Samuel is the big play threat for the Buckeyes. Curtis Samuel is a threat as both a receiver and RB. He is a great athlete with speed and seems like a natural. He can also return punts and kicks. Whitehead fumbles quite often and his recent suspension shows he is a selfish person, putting himself before the team. Samuel may not be as good of a player as Williams went it comes to receiving ability, but his ability to line up in the backfield is a dimension Dallas needs. Being able to run the jet sweep and even lining up in a two back set can create confusion with Ezekiel Elliott. He can get down field as well.
4. Cowboys: Conor McDermott OT UCLA
5. Cowboys: Kevin King CB Washington
6. Cowboys: Travin Dural WR LSU
7. Cowboys: DeAngelo Brown DT Louisville