[Video] 55 Year Old Running Back Joe Thomas Makes NCAA History
Updated: November 20, 2016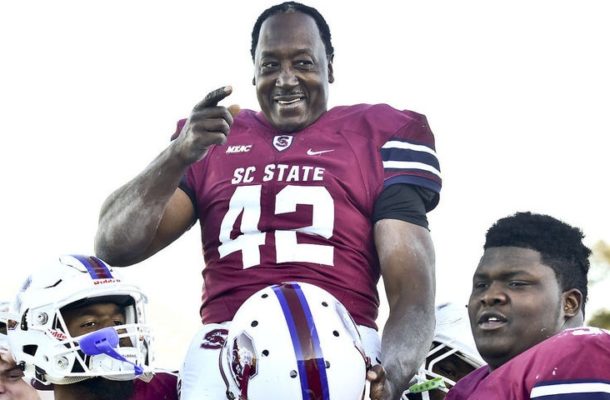 Never give up on your dreams. If there is nothing you ever get from me, please remember that. If you are patient and diligent at your craft an opportunity will arise.
That is exactly what 55 year old running back Joe Thomas of SC State did this weekend. At that age there is no reason he should be able to carry the ball and get positive yardage in a college football game. However he did exactly that.
Here is Joe's Historic run that made him the oldest DI player of all time:

Breaking: 55-year-old Joe Thomas Sr becomes oldest DI football player after rushing for 3 yds for @SCStateAthletic. @wachfox pic.twitter.com/eyoSMpZDBK

— Mike Uva (@Mike_Uva) November 19, 2016
Joe Sr. helped his son make a highlight reel and used some connections to give him a shot as a walk on at South Carolina State. It was a good project for Joe Sr., as the Great Recession was gnawing Thomas Enterprise down to just him. He fell behind on his house payments, sold his rental properties to survive and couldn't find work that didn't demand a college degree. One day in spring 2012, he came home and asked [wife] Sarah to help him fill out a college application, then drove to Orangeburg to ask Joe Jr. if he'd be okay with his father joining him at college.

Thomas Sr. joined the team as a walk-on in 2012 when his son was still a member, but he tore his ACL and MCL in a car crash. He missed the 2013 season and even filed for bankruptcy as well. And then in 2014 he missed the year because of a sciatic nerve problem.

But he stuck with it and received an academic waiver to appear in a game earlier this year.

Before Thomas made his appearance Saturday, the previous oldest player to appear in a Division I game was former South Carolina wide receiver Tim Frisby.

Frisby joined the Gamecocks in 2004 as a 39-year-old receiver and caught a nine-yard pass in 2005.
Source: Sports Illustrated