Is Ryan Fitzpatrick's Career "White Privilege?"
Updated: October 30, 2016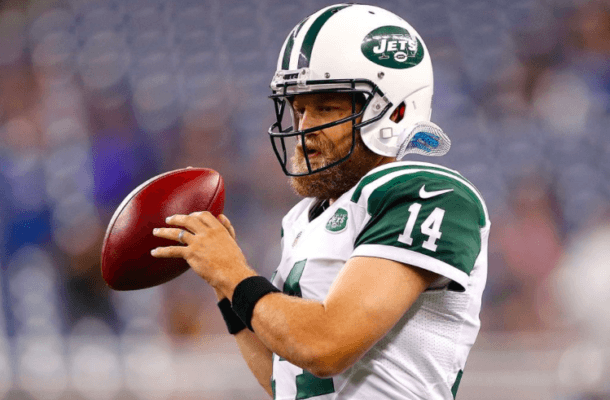 The NYDailyNews recently posted an amazing article on NY Jets QB Ryan Fitzpatrick. As we all know, Fitz has struggled to score points with the Jets recently and was benched for Geno Smith who in turned got injured. The job is now Fitz's again but he has made remarks in the media about being benched.
He isn't too thrilled about it.
The NYDaily news article points out that not only should Ryan Fitzpatrick accept being benched, but that he has had more chances than almost any other quarterback in the NFL for some odd reason.
Let's break down some of this article:
"That's difficult even for a guy that has been on six different teams and done it in every which way," Fitzpatrick said. "I'm human. I have emotion … That was a very difficult situation for me, because I'm a human being … I'm not a robot … There is a human element to it."

Did you catch the privileged part?

Six. Different. Teams.
That's right. He's been on not one, not two, not three, not four, not five, but SIX TEAMS! And he's still considered a starting caliber quarterback in the league. The article also points out that in contrast black quarterbacks rarely get a chance to play as a starter for more than two different teams in their entire careers. Wow.
Before the Jets, Fitz played 10 years and never had a single winning season while going 33–55 as a starting quarterback. And yet, the Jets were the SIXTH team to give him another starting chance.
33-55. 33-55. 33 wins. 55 losses.
The article then breaks down some more well known black QBs.

In truth, the career of Donovan McNabb effectively ended on October 31, 2010.

That day, the team in Washington was 4-3 and head coach Mike Shanahan famously benched McNabb with two minutes left in a winnable game in favor of Rex Grossman who fumbled the game away on the first play.
Mike Shanahan is not only shady when it comes to his dealings with QBs but he also has little to show outside of Terrell Davis to qualify his "genius" moniker. Benching Donovan McNabb here basically ended his career with the coaching fraternity of the NFL who passed him off as damaged goods.
McNabb would never get to play for the Bears or Cardinals in the twilight of his career. Those franchises chose to play Caleb Hanie and Josh Skelton instead.
Ryan Fitzpatrick is 33-55 and still starting games. 33 and 55. 33 and 55.
Then we get to perennial losing coach Jeff Fisher and his treatment of Vince Young:

Jeff Fisher sabotaged Young's career by constantly yanking him out of games in favor of Kerry Collins at the slightest mistake. Just how bad was Fisher?

In 2009, a 37-year old Collins began the season "0-6" which culminated in a 59-0 loss to the Patriots with Collins throwing for -7 yards (note to editor: not a misprint). At this point Titans Owner Bud Adams stepped in and forced Fisher to start Young. Fisher's stubborn public response?

"I'm still in (Kerry's) corner, but we've decided to go ahead and make this change," said Fisher.

Dear Fitz, this is the kind of support Vince Young received.
Fisher lost game after game playing Kerry Collins over Vince Young. Kerry. Collins.
Vince Young ended his career as a NFL starter 30-17. 30-17. 30 and 17.
He cannot find work in the NFL. Ryan Fitzpatrick can.
It gets even spookier when you break down Fitzpatrick's career win totals by season:

0-3: Rams 2005

4-7-1: Bengals 2008

4-4: Bills 2009

4-9: Bills 2010

6-10: Bills 2011

6-10: Bills 2012

3-6: Titans 2013

6-6; Texans 2014

10-6: Jets 2015

No Black QB can ever pull this string of failure off. Or even half of it.
So is Ryan Fitzpatrick a product of "white privilege" or is he just the luckiest man in the NFL?
I definitely think there is a bit of both going on. Maybe it is the Harvard degree. Maybe he's personable and likable in the film room. Maybe coaches just see him as a masterpiece waiting to be carved out the stone. Who knows. Most QBs, white or black, don't get the chances Ryan keeps getting.
READ THE FULL NYDAILY ARTICLE HERE