Jerry Jones Upset Black Players Are Following Kaepernick's Protest
Updated: September 23, 2016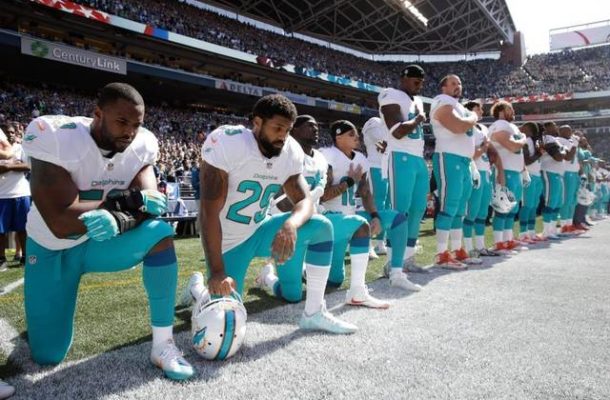 Another day, another person who does not understand Colin Kaepernick's protest. Today it is Cowboy's owner Jerry Jones.
When asked about the protests, instead of addressing the issue that has Kaepernick and others protesting Jones decided to deflect and make it about the flag (which no player has EVER said he disrespected.)
Here are Jerry's comments on the black players protesting:

FRISCO, Texas — Several NFL teams had players take a knee or raise their fists during the national anthem during Week 1 in response to San Francisco 49ersquarterback Colin Kaepernick's protests of racial inequality raised during the preseason.

The Dallas Cowboys were not one of them.Owner and general manager Jerry Jones was pleased with his team's decision.

Speaking on 105.3 The Fan in Dallas on Tuesday, Jones did not sound as if he condoned the acts of those who did take a knee or raised their fists.

"I got to give a big pat on the back to our entire team, our coaching staff, our entire organization," Jones told the Cowboys' flagship station. "We strongly, strongly support the flag in every way we support — and it's almost ridiculous to be saying it — the people who for generations and generations have given it all up so that we can get out here and show off in front of millions of people on television.

"We respect that so much. That's the real business. The forum of the NFL and the forum on television is a very significant thing. I'm for it being used in every way we can to support the great, great contributors in our society, and that's people that have supported America, the flag, and there's no reason not to go all out right there. And for anybody to use parts of that visibility to do otherwise is really disappointing."

-ESPN
I'm beginning to realize that white people simply refuse to compute in their brains that the protest is mutually exclusive of any sense of patriotism or respect for the flag/troops. You can do both.
People are still dying. White men are still dancing around addressing the topic. Bodies are in the street. Families are missing fathers, sons, cousins, and uncles.
But yet they continue to ignore the issues and make it about the military. And that is the true problem in Amerika.