What's Next for 7'1 400 Pound High School Player Brave Williams?
Updated: September 18, 2016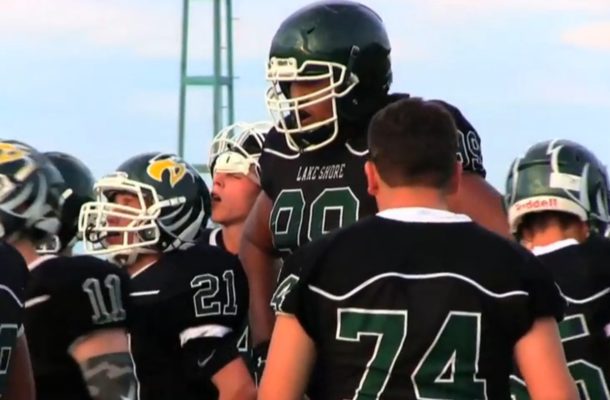 Every few years a massive prospect pops up on the scene and we may have the biggest of them all in 2016. The massive Brave Williams is making waves (no pun) at 7'1, 400 lbs. That's right! Four hundred!
Here are the details on Brave's career thus far:

At 7-foot-1 and 400 pounds, high school football player Brave Williams is larger than life
Lynden Ostrander | MaxPreps.comSaturday, September 17, 2016

Senior at Lake Shore High School in Angola, N.Y., is bigger than any player in the NFL.

When John Williams found out his wife Angela was pregnant with a boy, he dreamed that the child would one day grow to be 7-feet tall.

But he had no idea the boy would become the largest high school football prospect in the country – taller and heavier than any player currently on a NFL roster.

Enter Brave Williams, a real life giant.

The 7-foot-1, 400-pound senior football and basketball player from Lake Shore (Angola, N.Y.) wears a size 21 shoe and has always stood out … literally.
Photo by Bertram Smith
Brave Williams squares off with a West Seneca East lineman during last Friday's home game.

"When my mom was in labor she had to have a cesarean section because my umbilical cord was wrapped around my neck and I was coming out feet first," Brave Williams said. "The doctors tried to pull me out three times before they were going to take more drastic measures. But as soon as my dad touched my mom's forehead, I let go, and the doctors got me out. My dad instantly named me Brave because I needed a strong name."

And strong legs. That's a large frame he's got to lift everyday.

"I've been bigger than everybody my entire life," he said. "In kindergarten, I was already 5-3 and towered over everyone."

He still does. A product of Native American and African-American heritage, Williams commands attention even if he doesn't seek it. He's somewhat larger than life, says his mom. She stands 5-9. His dad is 6-4.

"Whenever we leave the reservation we live on (Cattaraugus in the Seneca Nation of Indians), he's a walking celebrity," his mother said. "People just want to touch him and strangers always stop him for pictures."

Around home, he's a typical, somewhat clumsy teen. But when you're as big as Shaquille O'Neal, it's problematic. Angela said her son accidentally breaks pantry doors, chairs and couches. She periodically hears loud thumps around the house and instantly shakes her head and knows the cause: Big Ol' Brave.

But Williams is known to stand for some causes too. He once claimed the title of middle school president with the slogan "If you want big change – vote for the big guy!"

The same thoughtful kid drives his sister Vivian to school every day, takes honors classes and is team manager of an elite semi-pro lacrosse team called the Native Sons.

"He's that guy you can depend on," Angela said. "He commands your respect. Though he's the sweetest guy ever, people still know better than to mess with him."

Especially on the gridiron.

Williams started playing football just three years ago and has been on varsity squad the past two seasons. He started three games last season at nose tackle and registered three tackles. In the winter, he played basketball for the Eagles and appeared in five games.

Though those numbers won't scare anyone, his weight room numbers are impressive. He said his workouts include squats of 1,000 pounds three times and bench presses of 200 pounds 20 times.

"I'd like to lose some fat and gain more muscle," he said.

Video clearly shows that he's a raw football player while navigating his massive frame among quicker players. He has not received any athletic scholarship offers to date, but that's one of his dreams.

"I attended a football camp at the University of Buffalo last year and coach Jeff Quinn (now an offensive analyst for Notre Dame), said he'd like to have me on the team," Williams said. "I haven't been in contact with him since last year, though. But I'd like to obtain a football or basketball scholarship from Buffalo, Penn State or Syracuse."

For now, he just wants to get back on the field. He injured his back last week, but plans to return to action Sept. 23 against Amherst Central.

If Williams' football career doesn't work out, he'll certainly be the most noticeable employee in most any future business. He said he wants to major in engineering.
Just like Baylor's LaQuan McGowan I don't expect NFL teams to take a legitimate look at him when that time comes.
I don't mean any harm but 400 lb. men aren't in the NFL for a reason. The conditioning aspect shouldn't be overlooked. Maybe if the young man cuts 30-40 lbs. by the time he's eligible to be drafted (about 3 years from now) he'll have an outside shot to playing in the league.
We'll see.