61% of Americans Claim They Are Offended By Kaepernick's Protest
Updated: September 16, 2016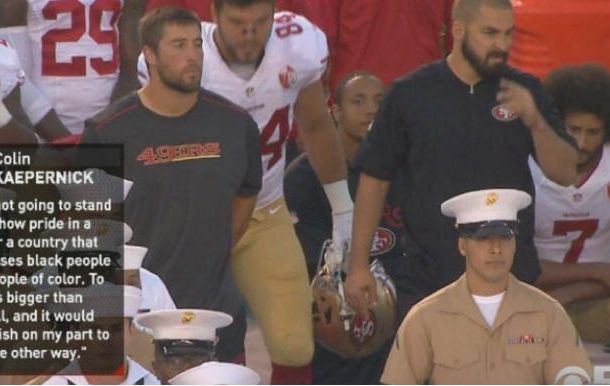 A new poll has come out on the sprawling Colin Kaepernick debate. A whopping 61% of Americans are against it in some way or the other, even as the protest spreads through the NFL.
The opinion poll found that 61 percent of Americans said they do not agree with Kaepernick, who has taken a knee during the "Star-Spangled Banner" in protest of racial injustice and police brutality.

While Kaepernick has inspired other players to refuse to stand during the national anthem, 72 percent of Americans said they thought it was unpatriotic.

Even so, 64 percent of respondents said they felt the quarterback had the right to protest under the U.S. Constitution, which guarantees freedom of speech.

And 46 percent said he should not be penalized by the NFL, which so far has said that there is no specific rule that requires players to stand during the anthem. NFL commissioner Roger Goodell has said he supports players' right to protest.

-REUTERS
What's funny is that the whole "he should find another way to protest" crowd cannot come up with any alternatives. That crowd's attitude just reeks of "I don't like it so stop doing it and play football Toby." Even Drew Brees put out a nonsensical tweet about it.
The protest IS the method you coward https://t.co/pzWPFbMqFX

— Adam H. Johnson (@adamjohnsonNYC) August 30, 2016
It's clear that just like every thing in the US, no one wants to admit this is divided along racial lines:

Nancy Harms, a farmer in Iowa, told Reuters she strongly believed Kaepernick should stand for the anthem as someone "born and raised in this country." But she said his protest was a fair exercise of freedom of speech.

"I have the freedom of speech also and I say, 'you're wrong'," Harms, 57, added.

Reaction to Kaepernick split sharply along racial lines in the poll.

While some 70 percent of respondents who identified as white said they disagreed with Kaepernick, that number dropped to 40 percent of respondents who identified as a racial minority.
I've had a lot of disagreements with people over this issue and it comes down to this. I personally do not believe that the people that are mad over Kaepernick are really mad or even real patriots.
How much money have you donated to Wounded Warriors? How much time have you spent with vets (that you didn't have to?) How are you helping the veteran suicide epidemic?
NFL teams didn't even start coming out of the locker room for the Anthem until 2009. And guess what? That's the same year when the US Military started paying for NFL to Salute the Troops.
Even the NFL doesn't really care that much.
You have my permission to stop pretending to care now.