WWE's New Day Debuts Funko Vinyl and BootyO's Cereal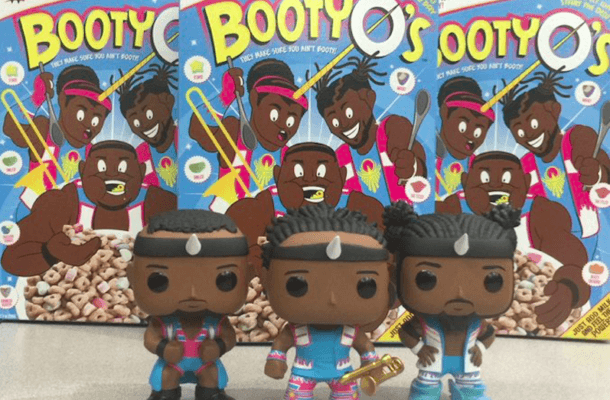 The New Day is the gift that keeps on giving for WWE. Once vilified as clapping preachers, these guys turned that dead gimmick around into something that kids and adults alike love.
Ever since adopting the 'brony' gimmick these guys have been moving merchandise like no other. I was at the WWE RAW taping in Greensboro this year. Out of the people wearing wrestling gear, 60-70% of them had on New Day stuff. It is amazing to see how people take to Big E, Xavier Woods, and Kofi Kingston.
Kofi has announced that things are even better now with the New Day getting their own exclusive Funko Vinyl's:
New Day @OriginalFunko Pop Vinyls are coming to exclusively to @ToysRUs this holiday season!!!! pic.twitter.com/h9LHNDRMnx

— Kofi Kingston (@TrueKofi) July 21, 2016
New Day has also finally achieved a milestone.
BootyO's is now a real cereal.
FLIP THE PAGE TO SEE THE BOOTYO'S CEREAL

Pages: 1 2