#KD2DC Update: Kevin Durant has Landed in DC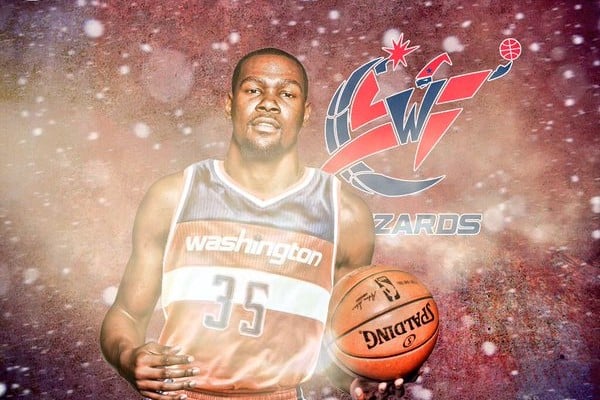 #KD2DC is still a pipe dream but that will not stop us from following this story. The Thunder's big man has finally entered unrestricted free agency and his hometown Washington Wizards are desperate to sign him.
First it was arranging the roster to make sure a legit max was available for KD.
Then it was hiring KD's old coach Scott Brooks.
Then it was the NIKE store in downtown DC mysteriously putting a floor-to-ceiling display of KD in the window.
Then it was a local rapper starting a GoFundMe to lure KD home.
And now… DURANT HAS LANDED IN DC:
No, the upcoming NBA free agent wasn't back in his hometown to hear a pitch from the Washington Wizards, we don't think anyway. Nah, unkosher at this point on the NBA calendar. Was he there for a game of hoops with President Barack Obama? Maybe, but if so that was secondary to the main reason for the Oklahoma City Thunder star's visit.

Durant and Washington Redskins receiver Pierrre Garcon were among those supporting the My Brother's Keeper (MBK) Success Mentors Initiative, the White House announced. The initiative is designed to help chronic student absences in our country by "connecting over one million students who are or at risk of becoming chronically absent with trained school-linked caring adults and near-peers over the next 3-5 years."

–CSN
KD'S in the town. That's just one step closer… DC fans don't get your hopes up quite yet but it's looking good.