Klay's Dad Says Warriors May Sign KD in Summer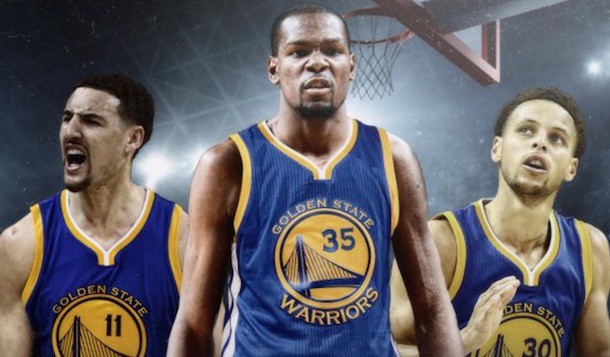 Klay Thompson's Dad, NBA retiree Mychal Thompson says that the Warriors will go after a big free agent this summer. That free agent's name? Former NBA MVP and the man leading the way for the Thunder to eliminate the Warriors from this year's playoffs: Kevin Durant.
The Golden State Warriors plan on pursuing Kevin Durant when he becomes a free agent in 2016, according to Mychal Thompson.

Thompson is the father of Klay Thompson.

"I also heard it on good authority from a team that plays in the Bay Area that they're going to go hard after Kevin Durant," said Mychal Thompson.

With the salary cap going up, the Warriors may have enough space to sign Durant to a max contract if they make a few cap-cutting moves.
Now of course this is a lot of "if's" and "maybe's" but the scenario still works out under the cap rules. It is very possible KD could end up with Klay and Steph next year… and there is no telling who could stop that team.
What do you think? Should Durant go to Golden State? Or should he stay in Oklahoma City?